Hundreds Participate in Civil Disobedience to Escalate Pressure on House Republicans to Pass Immigration Reform, Demand Halt to Deportations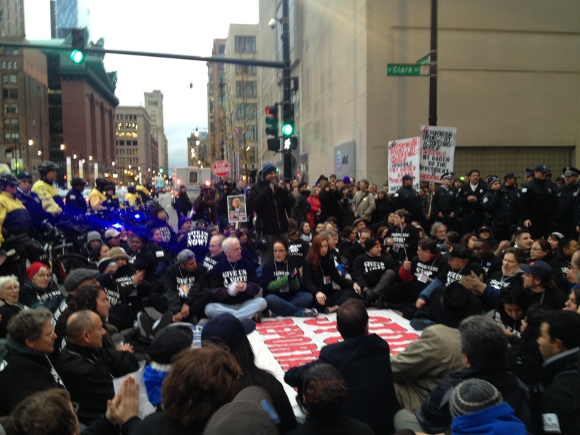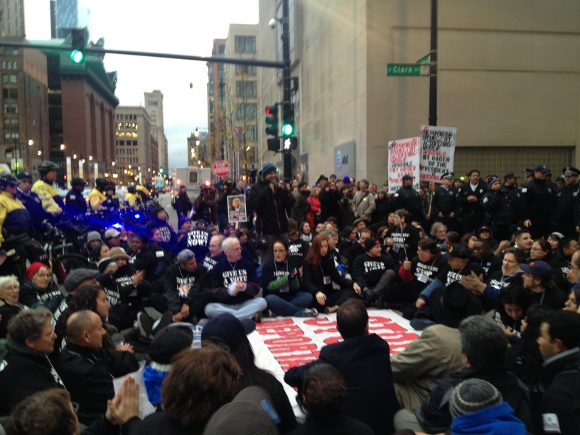 Message to President Obama: 2 Million, Too Many
SEIU Presidents Keith Kelleher of Healthcare Illinois Indiana, and Tom Balanoff of Local 1, Get Arrested In Fight for Common Sense Immigration Reform

(Nov. 6, 2013, Chicago) — More than 500 people from faith, labor, elected officials and community organizations, including many undocumented families,join the Illinois Coalition for Immigrant and Refugee Rights (ICIRR) for a rally in front of the Chicago office of Immigration and Customs Enforcement (ICE).
The rally was to pressure the Republican leadership of the US House of Representatives to quickly pass immigration reform, and demand that President Obama halt deportations that are destroying our communities and families.
Hundreds engaged in civil disobedience by blocking Congress Parkway to bring attention to the nearly 2 million deportations executed by the Obama Administration. The rally attracted politicians including U.S. Rep. Danny Davis, D-Ill., and Chicago Ald. Joe Moreno (1st). Watch Chicago Sun-Times video:
Keith Kelleher, President of SEIU Healthcare Illinois Indiana issued the following statement before his arrest on Congress Pkwd in Chicago: 
"Now is the time to finally bring the over 11 million undocumented workers out of the shadows and provide them a pathway to citizenship.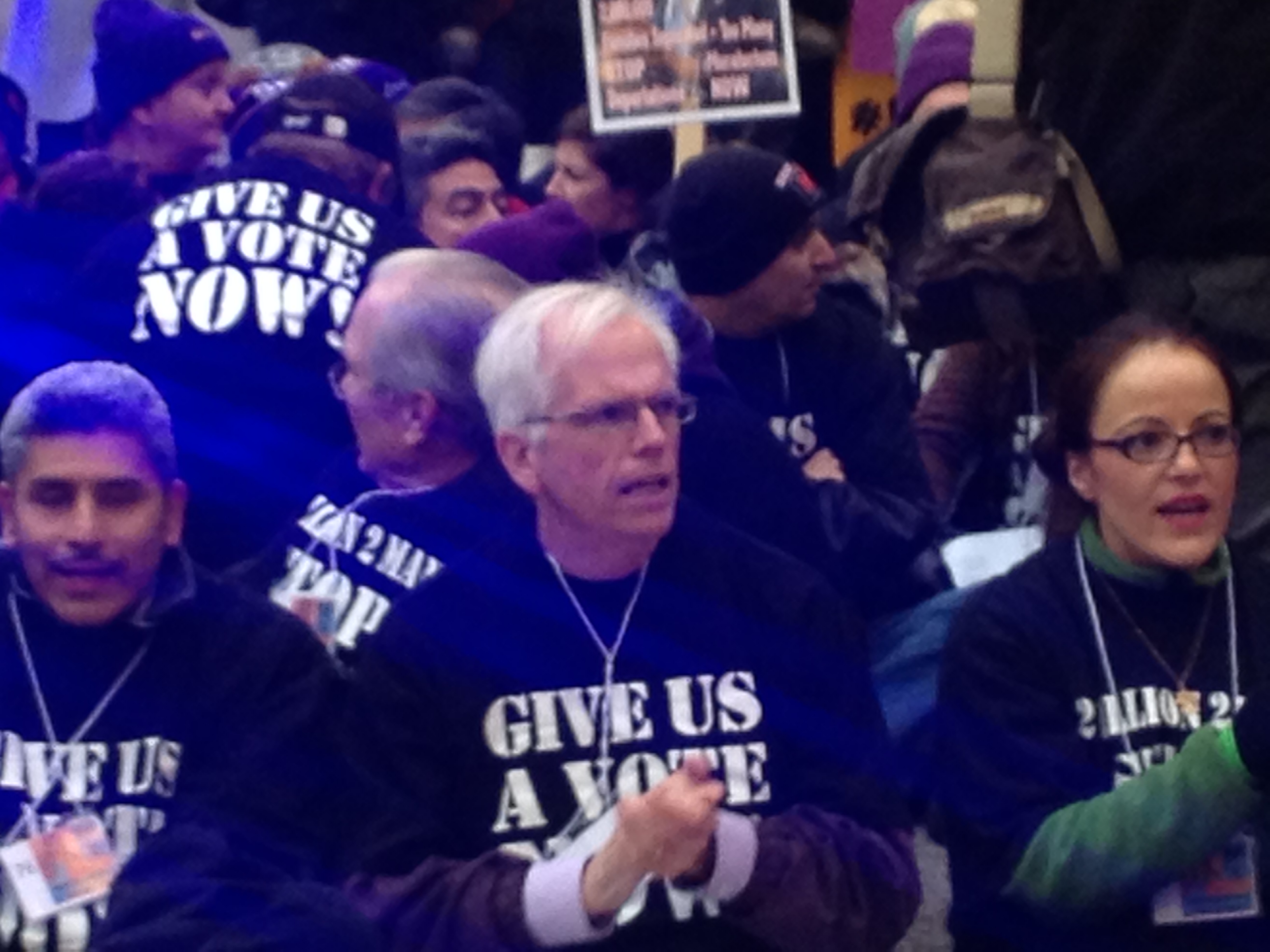 Immigration is not a problem to solve – immigration is, in fact, an opportunity for our country to seize!
Immigration reform is our opportunity to fundamentally rebuild our economy, to reinvest in our communities, and to re-imagine what a new, diverse and tolerant society we can become.
But right now there are roadblocks standing in our way. The most angry, spiteful and divisive members of the House Republican Cauc
us are stopping the wishes of the American people to repair our broken immigration system.
We, the American people deserve a vote. The immigrant families who have been torn apart from deportation, deserve a vote on the floor of Congress.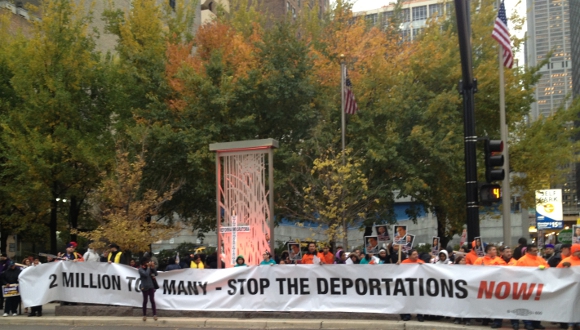 And that's why I, along with scores of other community leaders, are willing to participate in an act of civil disobedience today to send a clear message to Congressman Peter Roskam and the House Republican Caucus that we are going to fight for our values until we see justice.
We are calling on every member of the Illinois Congressional delegation to listen to Republican Senator Mark Kirk's support for immigration reform and to show true leadership on this issue.
Future generations of immigrant families — as well as working families and union members from across this great nation — will look back at those members of Congress who demonstrated leadership with gratitude and appreciation, knowing that those elected officials did the right thing for our country and our communities."
While working families were engaging in civil disobedience, SEIU also released new TV ads targeting House Republicans, including Illinois Congressman Rodney Davis (13th district), for their refusal to bring common sense immigration reform for a vote.
Since Election Day 2012, immigrant communities and advocates have been pressing Congress to pass immigration reform that includes a pathway to citizenship for the 11 million undocumented immigrants in the US. This past October 5, immigrant advocates escalated their efforts to win citizenship for all this year with major mobilizations in more than 140 cities across the country.
On October 12, Chicago's march for dignity, respect, and justice for immigrants drew more than 10,000 participants.
Although the US Senate has passed bipartisan legislation last June, House Republican leaders, including Deputy Whip Peter Roskam of Illinois, continue to hide. As the House keeps stalling, 1,100 immigrants are deported each day. In Illinois alone, 56,108 children have lost a parent to deportation in the last six years. While Latino and Asian families are being destroyed, Congressman Roskam and his GOP leadership colleagues have been deaf to their pain and unwilling to offer any useful solutions.
See additional coverage below: