YMCA Head Start teacher testifies for fair early education funding at Progressive Caucus budget hearing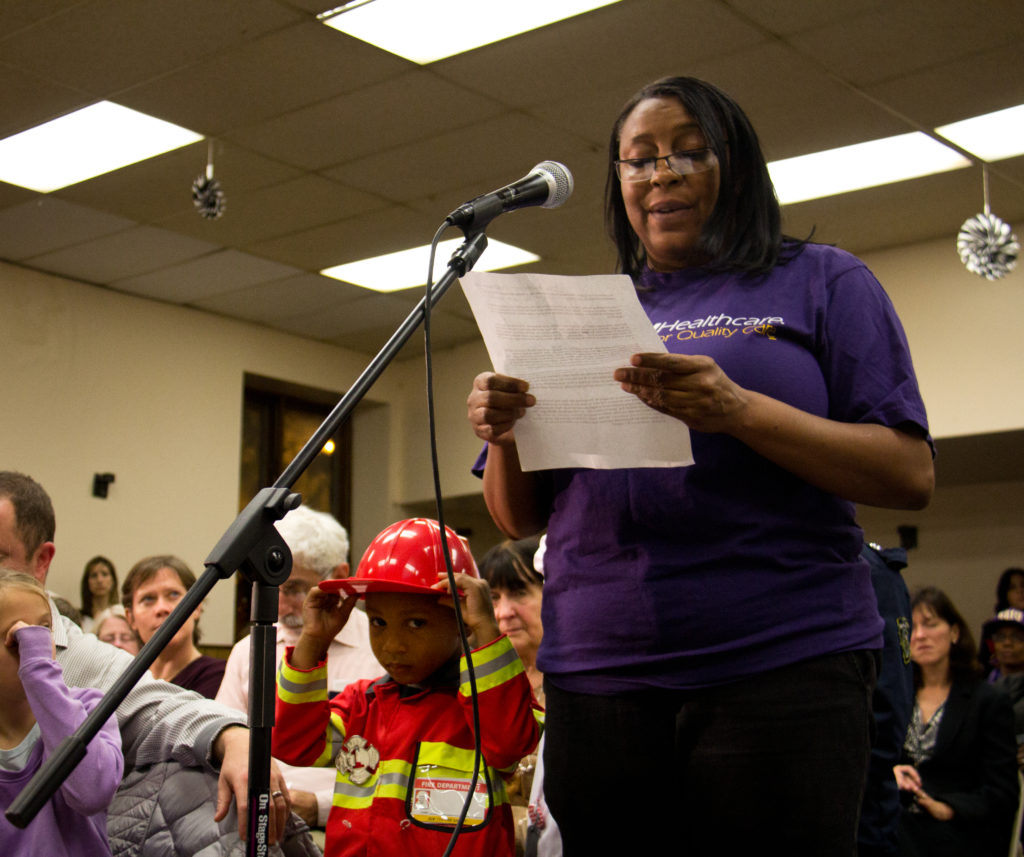 Veteran Head Start YMCA Teacher Kim Cotton testified at the Progressive Caucus budget hearing in Chicago, holding Mayor Rahm Emanuel accountable to his promise to get all Chicago kids college-ready. See video of her testimony, and read the full text below:
My name is Kim Cotton. I'm a South Side resident, and I've taught at the North Lawndale YMCA for nine years.

I started working for the YMCA to spend more time with my daughter, who was enrolled in the after school program. Back then, teachers and staff had the time and resources to give kids individual attention, personalized lessons, and even some extras, like field trips to the symphony.

But now, nine years later, I go to work and wonder what happened. There are no field trips in the early childhood program I work for. Half the time, teachers are reaching into their own pockets for essentials like food, materials for science projects, and sometimes, winter coats for kids who don't have them. Last spring, all of our teachers got an email stating that they'd have a yearly budget of $1000 to spend on our kids. None of us have ever seen a penny of it.

So you can understand why I'm skeptical that I'm ever going to see the $11 million dollars that our mayor promises us he's spending on our kids this year. Where is that money going? Chicago has seen a net decrease of nearly 4,000 early learning slots this year– $11 million dollars wouldn't begin to pay for that. We're short 714 slots in North Lawndale alone. The kids up here with me today, and 714 kids like them, might not achieve their dreams to become firemen and teachers and chefs, because they're being excluded from Emanuel's promise to make every Chicago child college-ready.

And it's not just slot shortage that's the problem. The city's early childhood programs are so underfunded that our YMCA center is forced to find kids who qualify not just for one, but two or three funding streams at once just to keep our doors open. Teachers and centers are overworked, understaffed, and desperate to fill the few slots we've got–more than once, I've seen a child join a center before we could find time to finish their paperwork, only to get kicked out two weeks later when it turns out they don't qualify for enough extra funding to keep our center afloat.

This unstable environment is damaging for the teachers who work long hours for poverty wages, the parents who struggle to find care for their kids so they can go to work, and most of all, the children being cheated out of a bright educational future. Rahm Emanuel says he's putting our children first, but in my community, our kids feel like an afterthought. On their behalf, I'm here to demand that we all hold our city accountable for the promises that have been made to our children's futures. Mr. Emanuel, where is our $11 million?