SEIU Healthcare Illinois Members Thank Senator Mark Kirk for Voting for Common Sense Immigration Reform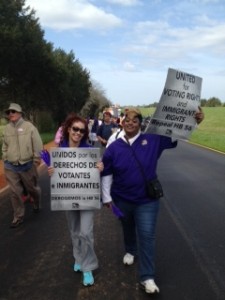 A delegation of SEIU Healthcare Illinois members attempted to deliver a letter to Senator Mark Kirk's Springfield office on August 15th, but his office was closed. See the letter below.
The Honorable Mark Kirk
U.S. Senate
607 East Adams, Suite 1520
Springfield, IL 62701
Dear Senator Kirk:
We thank you for your vote in support of common sense immigration reform.
We, the undersigned, as proud union members of SEIU Healthcare Illinois, wish to acknowledge your leadership on this important issue that affects working families in our state and across our country. We applaud you for joining your fellow Senators, on a bipartisan basis, in support of legislation that we hope will ultimately provide a pathway to citizenship for some 11 million undocumented workers and families, and reform our nation's broken immigration system.
We also wish to acknowledge your support for the "DREAMers" in the Senate legislation that creates a five-year road to citizenship for people who were brought here as children. Lastly, we recognize your support, in the Senate bill, to keep families together and for speeding the process for reuniting immigrant families.
But as you well know, this legislative effort has stalled in the House of Representatives.
Senator Kirk, we ask you to be a leading voice and a constructive partner to help persuade your colleagues in Congress, especially in the republican caucus, that now is the time to reform our nation's immigration system.
We hope that you will reach out directly to the entire Illinois Congressional delegation and urge your colleagues to support common sense immigration reform that includes a pathway to citizenship.
As I'm sure you'll agree, it is absolutely critical that we keep up the forward momentum so 11 million aspiring citizens can come out of the shadows and fully participate in our economy and our democracy—and future immigrants can come here legally.
Thank you again Senator Kirk for voting to pass common sense immigration reform in the U.S. Senate.
Future generations of immigrant families, as well as working families and union members from across this great nation, will look back at your stellar leadership with gratitude and appreciation, knowing that you did the right thing for our country.
Sincerely,
Working Families of SEIU Healthcare Illinois