Downstate Lawmakers Hold "Walk-a-Days" With Child Care Providers to Learn About Vital Programs for Working Families
State Senator Darin LaHood (Peoria-37th District) and State Representative Jill Tracy (Quincy-94th District) recently participated in separate child care "walk-a-days" to learn first hand what it's like working as a child care provider and to learn from parents about the difficulty of being able to afford quality child care.
(Watch this incredible video of Senator LaHood, a Republican, articulate why Illinois' child care program is so important to support working families and single moms).
The Peoria Journal Star acknowledged in its report on Apr 8th, quoting Sen. LaHood that Illinois' Child Care Assistance Program allows single moms and low-income families to find work to better their lives — and saves the state money.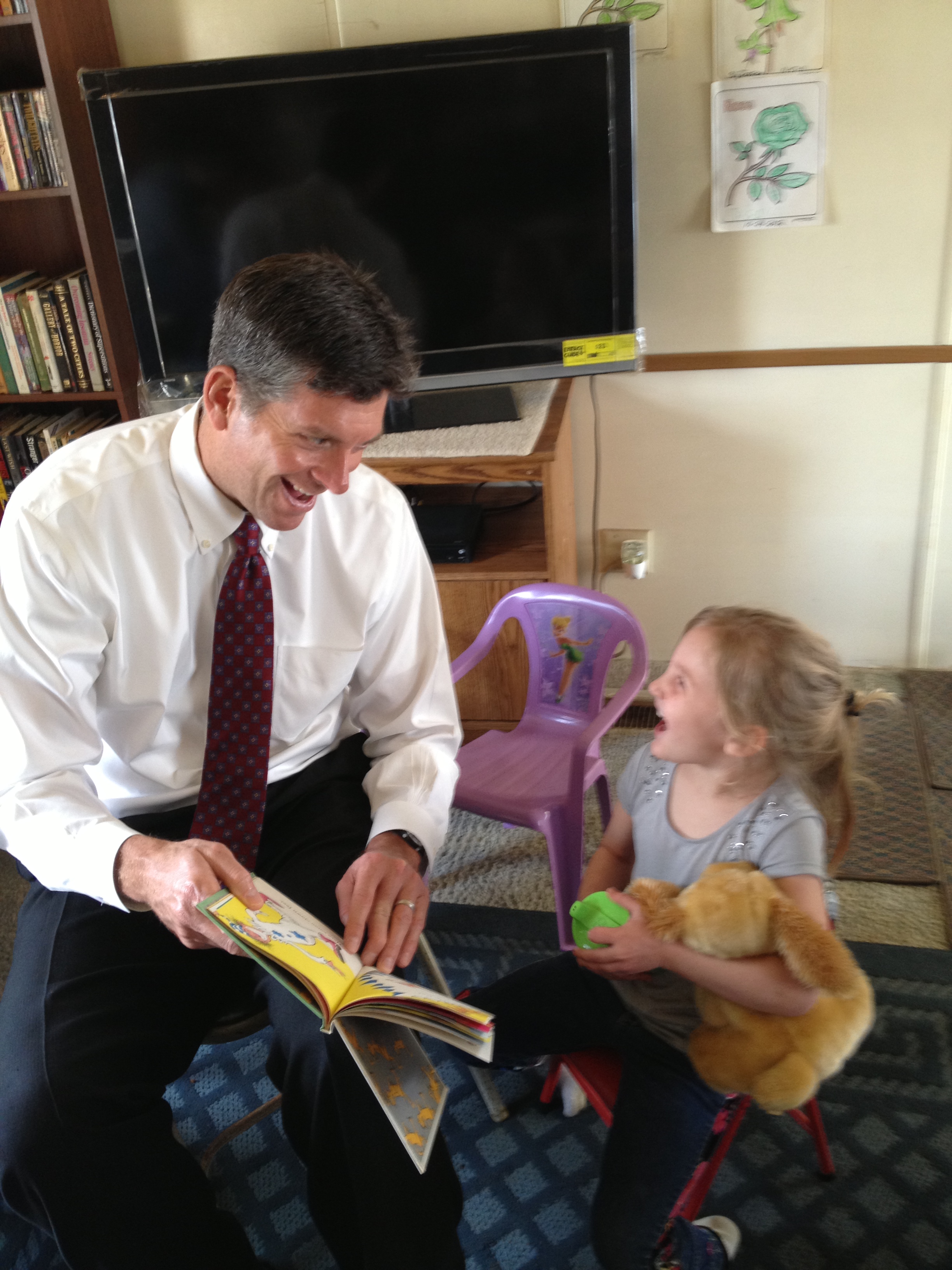 About 85,000 families and 160,000 children in Illinois take advantage of the services provided by the Child Care Assistance Program.

LaHood said meeting with a few of those 85,000 was eye-opening.

"When we're looking at a state with a $9 billion deficit where we have a severe fiscal crisis in the state, we're always looking where to cut back," he said. "From my perspective, we have to look at where tax money is well spent and programs that are saving taxpayer money, and from this program, looking at the small amount of money Patricia gets from state funds to take care of the children so Bernetta can work full time in the private sector — to see that is a good example of money well spent."

Henry gets paid $15.53 per child for each full day of care, but that's not the reason she looks after the children.

"It's not about the money, it's about the kids," she said. "With the senator coming and seeing firsthand to understand what I do, I think he sees that."
Parents and child care providers continue to call on state lawmakers to make child care assistance more affordable. Advocates are pushing legislation (SB 2315 / HB 2244) to lower co-payments in the Child Care Assistance Program for low-income parents and single moms.
Oftentimes even a slight raise or increase in income makes families ineligible for child care services leaving them to cover the full cost of care which is still beyond their means. This is known as "the cliff effect" – a policy that punishes working families and single moms and forces them to choose between getting a raise and keeping access to child care services.
"Affordable Quality Child Care" (SB 2315 / HB 2244) makes child care co-payments more reasonable by creating a tiered system where co-payments rise with families' incomes. The average low-income family spends a dramatic share of their income, 93%, on basic necessities such as housing, food and transportation leaving only 7% for child care and other expenses.
The Child Care Assistance Program is one of the single best investments the state of Illinois can make in the lives of working families. The program supports over 160,000 children in community and home-based settings and allowing over 85,000 families to work and contribute to our state's economy.
CCAP supports and empowers working families to become and remain self-sufficient. It improves the lives of our children and prepares them for both school and life; gives parents the ability to work and better their lives; closes the education gap; and reduces inequality.