As Illinois' Home Care Funding Crisis Continues, State Representative Mike Bost Serves as Home Care Worker for Seniors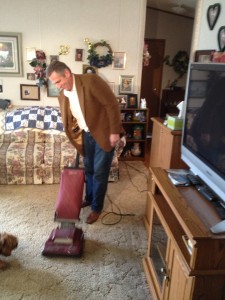 (March 26, 2013, Carbondale, IL) – State Representative Mike Bost (R-115th District) chose to spend his morning today cleaning the house for a married couple who are also his constituents: Chauncey, 70-years-old and Christina Wilson who is 69. Mr. Bost wanted to experience firsthand the value of the state's Community Care Program at the Department of Aging which allows 80,000 seniors in Illinois to live in their own homes instead of being forced into expensive nursing home facilities.
But right now Illinois' home care program is in dire crisis. The Community Care Program is literally out of money despite urgent calls to state lawmakers from seniors, home care providers, and community allies to pass emergency funding to save the program. The Community Care Program faces a total shortfall of $313 million; $173 million in previous liability from FY12, and $140 million operating deficit in FY13.
It was under this backdrop that Rep. Bost shadowed Ms. Josie Ball, a home care worker with ADDUS for five and a half years.  Josie has served as the Wilsons' home care assistant the last two years.

Watch the Carbondale ABC News WSIL report:
"Without my personal care and attention, there is no doubt the Wilsons would have to be placed in a nursing home which is exactly where they don't want to be. If the state slashes or eliminates the Community Care Program, they simply would not be safe," said Ms. Ball. "I feed them. I remind them to take their medication. I do all the little things that allow them to live at home."
Both Chauncey and Christina Wilson suffer from a variety of health issues.  They both have diabetes.  Chauncey suffers from heart complications and extreme fatigue. Christina is still recovering from brain surgery and chemotherapy two years ago.  She still suffers from depression from her surgery and can't do the basic tasks she used to love to do such as cooking, shopping, and keeping her home clean to invite guests over.
"I was someone who always worked, and never depended on anybody. It was how I lived my life. But now, after my surgery, I just can't do the things I used to anymore," said Christina Wilson.  "It's painful, but at least I can live in my own home."  Ms. Wilson is frustrated about her memory loss, and often loses her place both in conversation and when she is in public.  Ms. Wilson is quick to acknowledge the emotional support she receives from Josie.
On March 15th, the Department on Aging notified all home care agencies and providers that the Community Care Program completely ran out of money.  In addition to protecting the dignity, privacy and security of seniors, home care assistance also saves the state hundreds of millions by avoiding costly institutional care.  The Illinois Association of Community Care Program Homecare Providers (IACCPHP) says that without emergency funding the state's home care system could collapse. The Association says that more than a third of its members have only 30 days to survive if the state's funding is not restored immediately.
"It's not right that our seniors should be put in this awful predicament worrying about whether their home care assistance will be cut, or whether they'll be forced into a nursing home," said Josie Ball. "We need state lawmakers to commit to fully funding home care services immediately to protect our seniors."