SEIU HCII stands in solidarity with striking Caterpillar machinists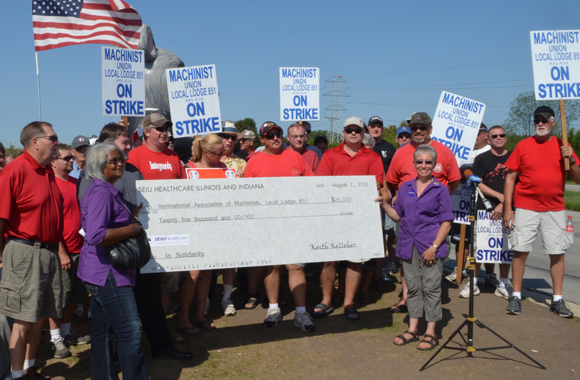 JOLIET, Ill.–In a show of solidarity within the labor movement, Illinois' largest union donated financial support to striking Caterpillar workers in Joliet Wednesday, vowing to stand with them in their struggle for economic justice.
Leaders of SEIU Health Care Illinois and Indiana (SEIU HCII), which represents more than 91,000 health care and child care providers, appeared at the Joliet picket line to present a $25,000 contribution to the fund supporting embattled members of the International Association of Machinists, Local Lodge 851.  The local began its strike on May 1st after the Peoria-based manufacturing giant demanded harsh benefit cuts and a wage freeze, despite the company's soaring prosperity.
"We're proud to stand here today to show solidarity with our brave brothers and sisters of the International Association of Machinists," said SEIU HCII Executive Board chairwoman Flora Roberts, standing with striking workers at a press conference to present the check. "Solidarity is the golden rule of the labor movement.  It means that a threat to workers anywhere is a threat to workers everywhere."
"Our brave brothers and sisters on the Caterpillar picket line are taking a stand not just for themselves, but for all Americans who struggle to make a decent living while greedy corporations pad their fortunes," added SEIU Healthcare Secretary Treasurer Myra Glassman. "At a time when the gap between the richest 1 percent and the rest of the 99 percent is historically large, this Caterpillar strike is a line in the sand for the American middle class.   This strike is a battle to protect the American middle class, and if workers stick together, we will prevail.
"This strike is not only about a fair contract with the workers at Caterpillar in Joliet, but it is also about the social contract that Caterpillar has made with the surrounding communities, so that these workers can work and retire with dignity without creating hardship on their families and communities," said Steve Jones, Directing Business Rep., District 8 IAM&AW.
Just last week Caterpillar reported a staggering $1.7 billion profit for the second quarter of 2012, a whopping 67 percent increase over the same period last year.  The company is on pace to surpass its cumulative 2011 profit of $4.9 billion.  Yet, even with those massive riches, Caterpillar wants to take more money from the pockets of the workers who have fueled its torrid financial performance.
In addition to enduring the hardships of life without a paycheck, the striking machinists have had to withstand the summer's withering heat to maintain the picket line.
"These women and men make bulldozers, so you better believe they won't let Caterpillar roll over them," Glassman said.  They're taking a stand for all workers, and we're proud to stand with them today and for as long as it takes."