99% families across the nation speak out to raise the minimum wage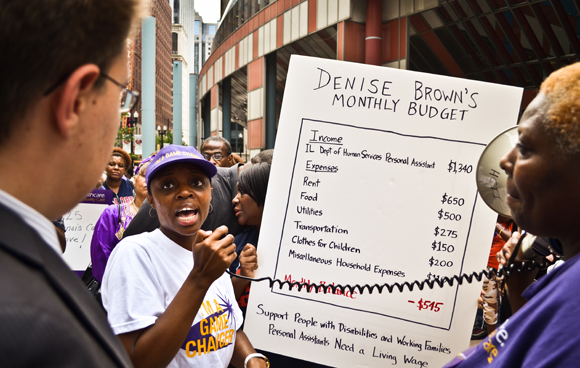 On Tuesday, the 99% stepped out all over the country to deliver the message that working families need a raise.
The first-ever National Minimum Wage Day of Action included a Romney Economy Trolley Tour, several rallies and press conferences, and protests at businesses like Dunkin Donuts and Walmart that don't pay their workers a living wage. Participants also led games of Minimum Wage Limbo, a game that holds special significance for  workers left in limbo when forced to choose between paying the rent and paying for food.
But it wasn't just minimum wage workers who spoke out in favor of raising the wage. DORS PA Denise Brown had the opportunity to lay out her family's monthly budget for a member of Governor Pat Quinn's staff, challenging him to think about how he or the Governor would support a family on $1,340 per month.
Home care worker Val Gordon has made minimum wage at several points in her career, and spoke about the difficulty of climbing out of poverty at a parallel action in St. Louis.
"I've been a home care worker serving seniors and people with disabilities for 20 years now and I'm still living in poverty and struggling to make ends meet," she explained.  "In 2003 I made $6.65 an hour and did not get a raise until our federal minimum wage laws increased to $7.25 in 2009.  Since then I have only had a thirteen cent increase and I face difficult decisions every day about which bills to pay and how I can still put food on the table."
In Chicago, the marches, rallies, and demonstrations culminated in a large rally at the Aon Center, where hundreds of SEIU members, allies, and activists chanted "We can't survive on $8.25!"