Nursing home workers picket over low staffing levels and wages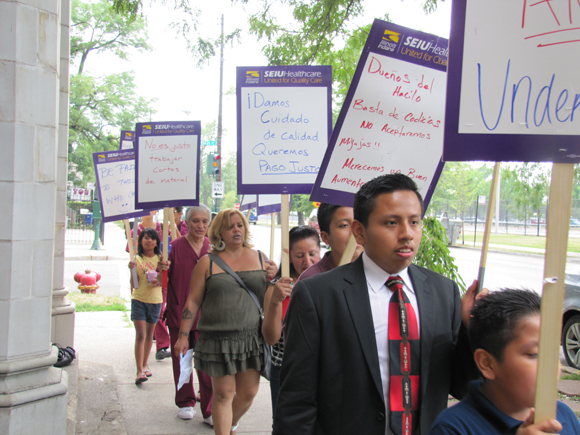 CHICAGO (July 18, 2012)—Chanting "keep residents safe" and "more supplies, more staff", dozens of nursing home workers picketed outside the Center Home for Hispanic Elderly, 1401 N. California Ave.,  to protes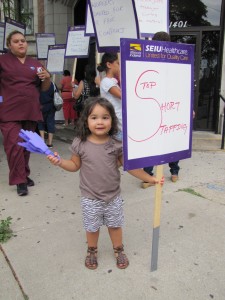 t low staffing levels, inadequate supplies and a failure of the home's management to invest resources in workers to prevent high turnover.
Workers complained that staffing and supply shortages prevent them from providing the quality care resident seniors deserve. The high worker turnover rate also prevents a level of consistency in care delivery, they said.
"We've seen this before and we're not happy about it," said nursing home worker Rosario Isaac, citing well documented problems the controversial nursing home faced earlier this year. "The seniors who receive care at the nursing home shouldn't have to suffer simply because the owners don't want to invest resources into the home."
Late last year, state officials cited Center Home for several deficiencies which they corrected. Earlier this year, state officials again were at the home investigating continuing complaints by workers and
relatives of residents about short staffing and supply shortages such as adult diapers, wipes and cleaning supplies.
A state ombudsman was assigned to monitor the progress but notified the State Department of Public Health after management failed to correct the problems. In March, workers, healthcare advocates and relatives of residents held a press conference outside the facility prior to delivering badly needed supplies to the administrator.
Public records have shown time spent on nursing care at Center Home has been declining and it ranked in the lowest 1 percent nationwide for nursing care, according to a newspaper report examining the situation.
"Enough is enough," said David Hernandez, a certified nursing assistant at Center Home. "These nursing home owners must start investing in their homes by giving workers the supplies and staffing necessary to give good care, and they must pay workers sufficiently to stop the high turnover that interrupts the consistency of care."
Hernandez pointed out that health and safety problems at other nursing homes across the city and state are being highlighted by worker pickets. The low pay and lack of resource investments are creating situations where the quality of care will continue to decline if not addressed by nursing home owners.
"These are jobs we love. Many of these owners make good money from the homes, but some of that money must be reinvested for the sake of residents," he said.