Working Families Launch All-Day Series of Actions Against CME Group: "Give Corporate Tax Breaks Back to the People of Illinois"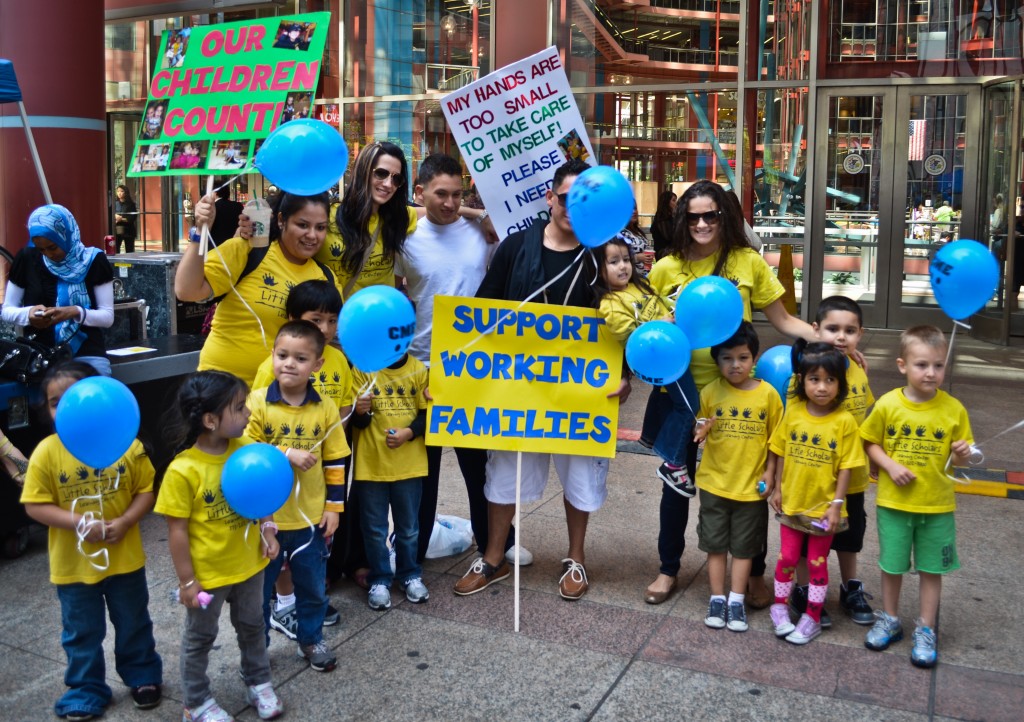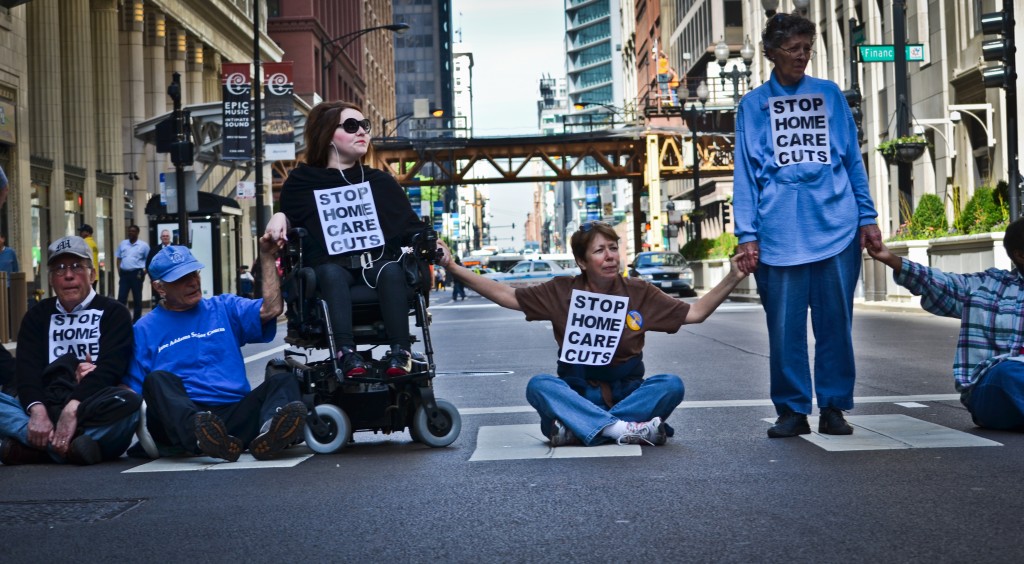 To Stop Unfair Budget Cuts to Vital Programs, Seniors, People with Disabilities Get Arrested at Board of Trade Demonstration While Children, Parents and Child Care Providers Hold Massive Rally in Downtown Chicago
(May 23, 2012, Chicago) — Mike Ervin sat upright in his wheelchair in front of the Chicago Board of Trade.  He offered a poetic opening in what would become a day-long series of protests to demand that the Chicago Mercantile Exchange (owned by CME Group) give back its corporate tax breaks on the day of the company's shareholder meeting.
"A home care worker came and got me out of bed this morning.  Another  home care worker will come in tonight and help me get back into bed. I am able to do everything I can do because a home care worker comes into my home. And that is how it will be for the rest of my life."
Ervin, and literally thousands of protesters, called on CME to give back its tax breaks in order to stop the state of Illinois from slashing home care programs that help seniors and those with disabilities.  Ervin said that CME Group doesn't need, nor deserve, its estimated $1 billion tax cut over the next 10 years, especially after the corporation earned nearly $2 billion in profits in 2011 alone.
(Watch Mike Ervin's entire speech).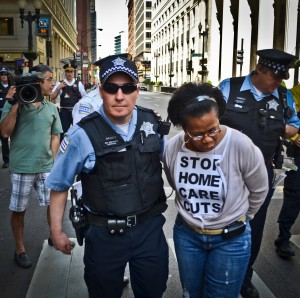 Fifteen protesters were arrested, including three individuals in wheelchairs, when they first blocked the door to the Chicago Board of Trade and then refused to move from Jackson Blvd in downtown Chicago. Home care programs are facing $210 million in state budget cuts that could impact 90,000 citizens.
Hours later, a massive rally was held at the Thompson Center, the State of Illinois Building, to fight $85 million in cuts to child care programs that support working parents, especially single moms.  Even though CME Group is the most profitable corporation in the state, the cuts could impact 160,000 kids, which advocates pointed to as the very definition of unfairness.
The rally to stop child care cuts provided a carnival-like atmosphere for the children and parents to make their voices heard in a playful fashion which included balloons, a tug-of-war against a giant puppet representing a CEO, a game of "duck, duck, taxes," and a march around the Thompson Center where children blew whistles sounding the alarm to stop the cuts.