"Nothing stops a bullet like a job": 6th ward residents unite against gun violence, unemployment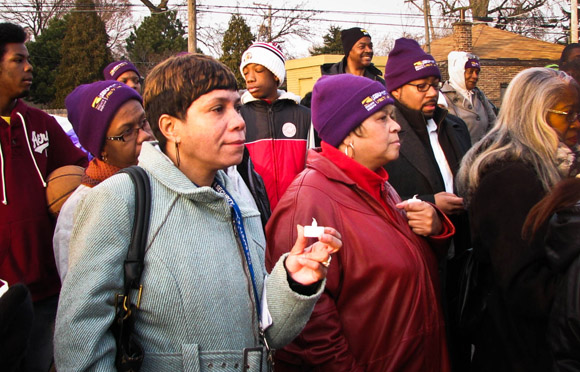 Child care, home care, nursing home, and hospital workers organized a candlelight vigil against gun violence in Chicago's Chatham neighborhood this month, highlighting a need for greater job opportunities to keep young people away from gangs.
Members held the vigil on the site of a tragic shooting. On Nov. 5th, 2011, three innocent bystanders, two men and one woman, all in their 20s, were killed in the parking lot of Church's Chicken and A Piece of Cake bakery on 87th and South King Drive.  The woman who was slain was picking up a birthday cake for her two-year-old daughter. No one has been charged in the shooting.
Several residents of the 6th Ward who have been shot, or whose loved ones have been shot, spoke about the physical and psychological pain of dealing with shootings in their neighborhoods. Home care worker Cynthia Youngblood, who also works part-time for Chicago Public Schools helping special needs children, almost lost her 17-year-old daughter when she was shot twice by random gunfire last June. Her daughter Diamond was hospitalized for 15 days and still needs crutches. Seven months later, Cynthia still has to take significant time off work, unpaid, in order to take her daughter to physical rehabilitation, counseling and medical visits.
"Every time I take my daughter to physical rehab or counseling it means I'm not able to work. We struggle to get by. Those two bullets did a lot of damage to my daughter and to our family," said Youngblood. "Why are we dealing with random gunfire in our neighborhoods? We need to build-up our communities by creating jobs, not tearing our neighborhoods apart," Youngblood said.
Child care worker Jacqueline Smith was shot in the back in September 2008 in the Gresham neighborhood.  Jacqueline, who had just watched the four young children that she was caring for leave her home, was struck by a stray bullet that almost punctured her lung. Three other bullets struck the outside of her house but the children weren't injured. Jacqueline eventually moved her child care service to the 6th Ward, thinking it would be a safer and quieter place to continue her business, but she worries that the community where she wanted to restart her life is becoming more and more dangerous.
"Let's be honest, we have too many young men who don't have jobs and don't see any way that they can contribute their lives towards a future. We simply can't allow our young people to slip through the cracks because they can't find meaningful work," said Smith, who could not attend the vigil but offered a statement. "If we want to reduce violence, we have to start by giving people a purpose and a job with a livable wage."
The candlelight ceremony will be the first of many opportunities for members, residents and community partners to become involved in actions against neighborhood violence and the lack of job opportunities that allows it to flourish. Members are creating a community-based coalition in the 6th Ward to advocate for solutions, aiming to mobilize union members and to partner with interfaith groups and churches, non-profit organizations, small businesses, and civic leaders to create jobs, improve schools, reduce home foreclosures, prevent violence, and encourage economic development and investment in the 6th Ward.
Watch Alderman Sawyer and Cynthia and Diamond Youngblood address gun violence in their community: