Fighting anti-worker "right-to-work" laws in the Indiana Statehouse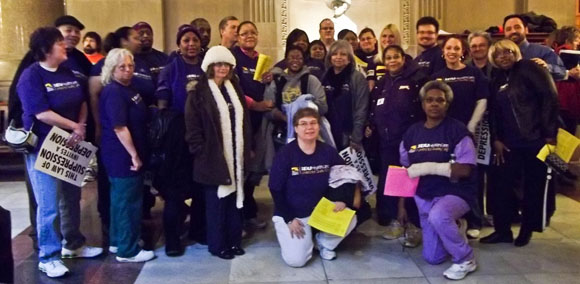 As the legislative session heats up and the city of Indianapolis prepares for this year's Super Bowl, Indiana Republicans are fighting to punch through so-called "right-to-work" legislation that would limit collective bargaining for workers as fast as they can.
But Indiana Democrats and SEIU members are working just as hard to stop this anti-worker, pro-corporate legislation, and to educate the public about the harm right-to-work laws have caused in other states. Yesterday, members from all over the state traveled to the Capitol to fight against legislation that puts corporate greed ahead of Indiana families.
"We spent some time talking to state Democrats like Senator Vi Simpson and Rep. Peggy Welsh, thanking them for looking at things from the perspective of working people," said home care worker Kelley Sims. "They thanked us for coming out to support them as they work to support us."
"But we also talked to some Republican lawmakers who were either for right-to-work legislation or are on the fence about it. A lot of them said they support these bills because they might convince businesses to come to Indiana. I asked them, are we really making things better for Indiana if companies come here just because they know they can treat their workers however they want and pay them less than a fair wage?"
There is no solid evidence that right-to-work states attract businesses more than states without these laws: according to the Economic Policy Institute, "the evidence is overwhelming that right-to-work laws have not succeeded in boosting employment growth in the states that have adopted them." However, studies conducted by the US Department of Labor, the US Census Bureau, and others have found that workers' quality of life decreases with the passage of right-to-work laws. For example, Indiana workers currently earn a higher wage on average than workers in right-to-work states, and are more likely to have job-based health insurance and pensions.
As Indiana Democrats continue to fight to defeat this harmful legislation, our members will keep holding Republican lawmakers accountable to their constituents—not greedy corporations.
"We'll stick together and keep fighting until we get our point across," said Kelley.
Our members will head back to the Statehouse to keep working for the rights of working people on January 24th.
See home care worker Vicky Hernandez testify at the Statehouse: