Research and Menorah Medical Centers ratify their first contract
On December 9th, healthcare workers at Research and Menorah Medical Centers in Kansas City ratified their first ever union contract, with an overwhelming 92% voting yes. Since January 2011, members at both hospitals have been at the bargaining table, negotiating with one of the largest hospital chains in the US.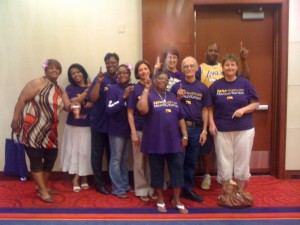 Employees at Research and Menorah have supported forming a union at their hospital for quite some time, and they finally won their union last year.  By ratifying their first contract, workers at Research and Menorah have now completed the organizing process and are officially members of SEIU Healthcare IL/IN/MO/KS.
"This is a great win for our hospitals and for all of the working people in Kansas City," said Anthony Baker, an EVS at Menorah.
Throughout the year-long contract campaign, workers at both hospitals have come together to take action, from organizing sticker days to delivering cakes to management to holding rallies.  By standing together, Research and Menorah workers won a strong contract and through the process, formed a strong union.
"It's great to finally have a voice in the way things are done here at RMC!" said Corita Brown, a dietary worker at Research.
Research and Menorah workers won a strong contract that includes:
Wage increases
Job Security
Right to grievance and arbitration procedure
Attendance relief
Staffing language
Removal of salary caps
Ratification bonus