Action Now, SEIU HCII, and community allies rally against BofA for three days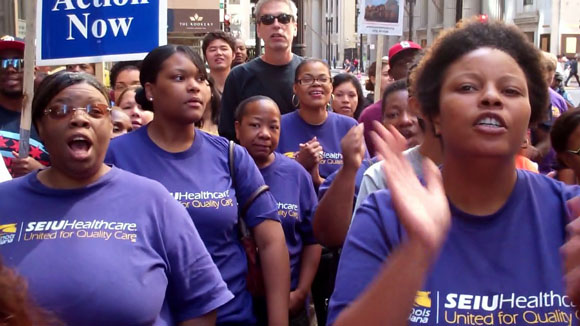 Across the city of Chicago, foreclosed and abandoned homes are driving down property values and acting as magnets for crime in our communities. When Bank of America account holder and Action Now member Marsha Godard tried to hold the bank accountable to maintain their foreclosed properties, the bank had her arrested. Activists and community leaders gathered for the next three days to support Marsha and tell Bank of America that we're sick and tired of the bank abandoning its responsibility to keep its foreclosed properties safe.
See Progress Illinois' coverage of the event, with more on the City of Chicago's ordinance to force financial institutions to maintain its foreclosed properties.
Check out the Move Your Money Project to learn more about how you can transfer your money from the big banks that are hurting our communities to smaller local banks.