Northwestern Memorial Hospital Workers Demand Safe Staffing, Livable Wages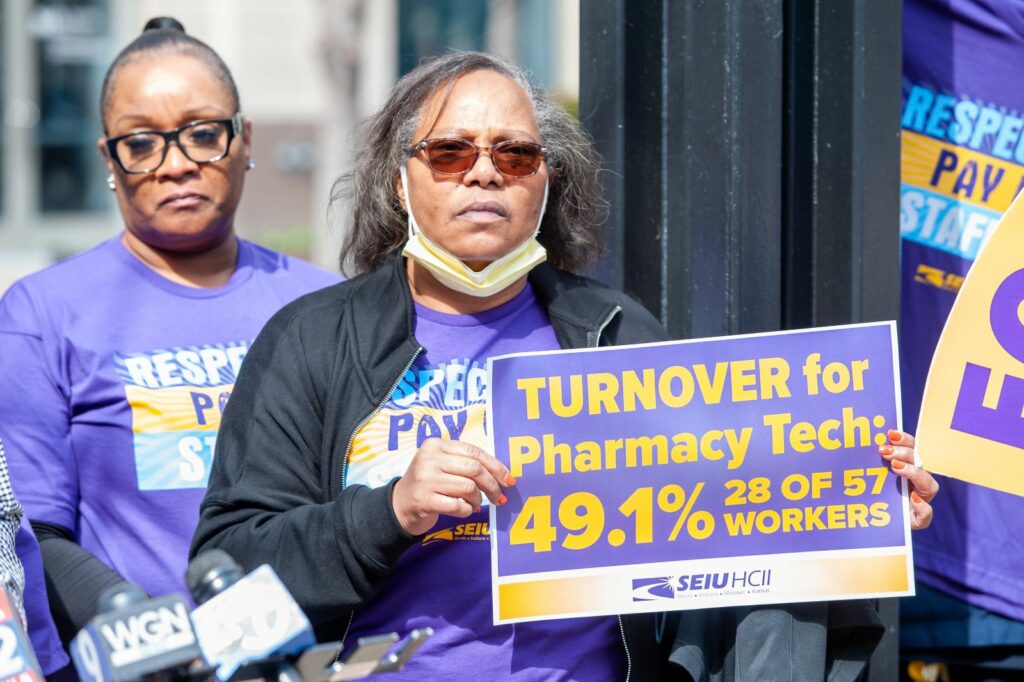 PROTECT US, STAFF US, PAY US
Representative Lakesia Collins to Northwestern Medicine: 'Be a better corporate citizen'
Chronic short staffing endangers patient safety
CHICAGO — As Northwestern Memorial Hospital faces a dangerous staff crisis and the healthcare giant stonewalls workers at the contract bargaining table, hospital workers with the Service Employees International Union (SEIU) Healthcare Illinois held a press conference on Friday to demand the healthcare giant address the crisis by creating a pathway to a $25/hr minimum wage for all hospital workers.
Desmon Yancy, Aldermanic candidate for Chicago's 5th Ward, State Representative Lakesia Collins, and SEIU Healthcare Illinois President Greg Kelley joined workers in their demands and called out Northwestern Medicine for prioritizing lavish executive compensation packages over investments in the workforce that keep patients safe and the hospital running. A full video of the press conference is available here. Photos of the event are available here.
"I'm here today to call on Northwestern Medicine to be a better corporate citizen, meet its frontline workers at the bargaining table, and commit to creating a pathway to $25/hour minimum wage to help solve its staffing crisis," said Rep. Lakesia Collins.
"I am here to call on Northwestern Memorial Hospital to be a leader and pay these frontline workers a living wage," said Desmon Yancy, Aldermanic candidate for Chicago's 5th Ward. "I stand with you as a candidate for the 5th Ward, I stand with you as a citizen of Chicago, and I stand with you as a worker who fights for workers."
Carrying larger-than-life "broken equipment" tag to signify that short staffing is just as dangerous as faulty hospital equipment and carrying signs declaring, "Protect Us, Pay Us, Staff Us," Northwestern Memorial Hospital workers shared personal stories about how short staffing and high turnover rates increase worker burnout and endanger patient safety.
"We are so understaffed, I'm not just expected to do my job. I'm expected to do the work of two or three other workers as well," said Ebony Buckley, a Northwestern Memorial Hospital Environmental Services (EVS) Worker and SEIU Healthcare Illinois member. "When every shift is understaffed, the work just doesn't get done and patients have to wait longer to receive care. And when they do, it's not the quality care we'd like to provide."
Workers also shared their struggle to get by on low wages while working for the healthcare giant. "Northwestern's shamefully low wages make it hard for workers like me to stay at our job because we're being constantly overworked with little to no support from management," said Buckley.
"Northwestern Memorial Hospital is a nationally ranked medical provider with $16.7B in assets. So we know they can afford to pay their workers livable wages that will solve the staffing crisis. But time and time again, they choose to line their executives' pockets rather than investing in workers," said SEIU Healthcare Illinois President Greg Kelley.
Since January 2022, 29.1% of Northwestern Hospital workers have quit – a higher turnover rate than the national average. Northwestern Memorial Hospital is a nationally ranked medical center boasting $12.5B in assets, yet its starting wages are lower than starting wages at Mt. Sinai, a safety net hospital with far fewer resources. In 2021, Northwestern Hospital paid its top executive $10.6 million while underpaying workers and dangerously understaffing. When safety net hospitals with fewer resources serving Black and brown communities were overwhelmed during the pandemic and sought to transfer patients to Northwestern Hospital, Northwestern Hospital refused. Meanwhile, Northwestern Hospital is planning a $77.6 million expansion into the Gold Coast, one of the most affluent neighborhoods in Chicago.
BACKGROUND
SEIU Healthcare Illinois members' bold action-taking is happening amid a series of actions, backed by SEIU, where thousands of workers throughout the country are taking to the streets and raising their voices to demand unions for all. Working people are exercising power like never before: striking, bargaining strong contracts, winning unions, and demanding a seat at the table with employers in states and cities across the nation.
###