Wishing you and your family a Happy Thanksgiving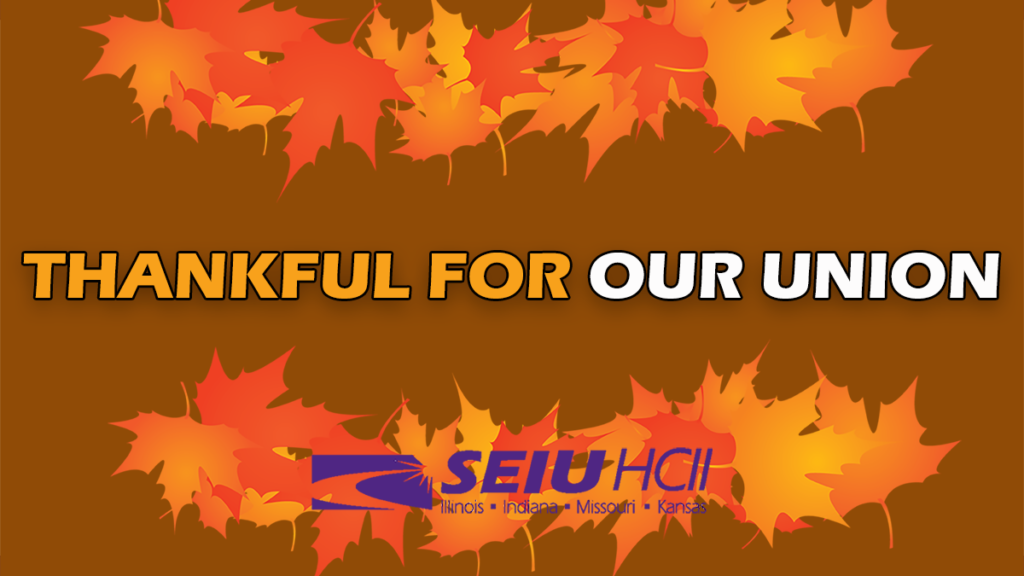 On behalf of the team at SEIU Healthcare IL IN MO KS, I want to send you and your family warm wishes for a very Happy Thanksgiving.
As a union, we have so much to be thankful for this year. From welcoming nursing home workers who have voted to become some of our newest SEIU Healthcare members, to celebrating the recent contract victories for Ingalls hospital workers and Indiana Help at Home home care workers, and honoring our Illinois home child care providers who will soon receive a $1,000 hero bonus for their work through the pandemic, we know these were all hard-fought victories that we achieved TOGETHER.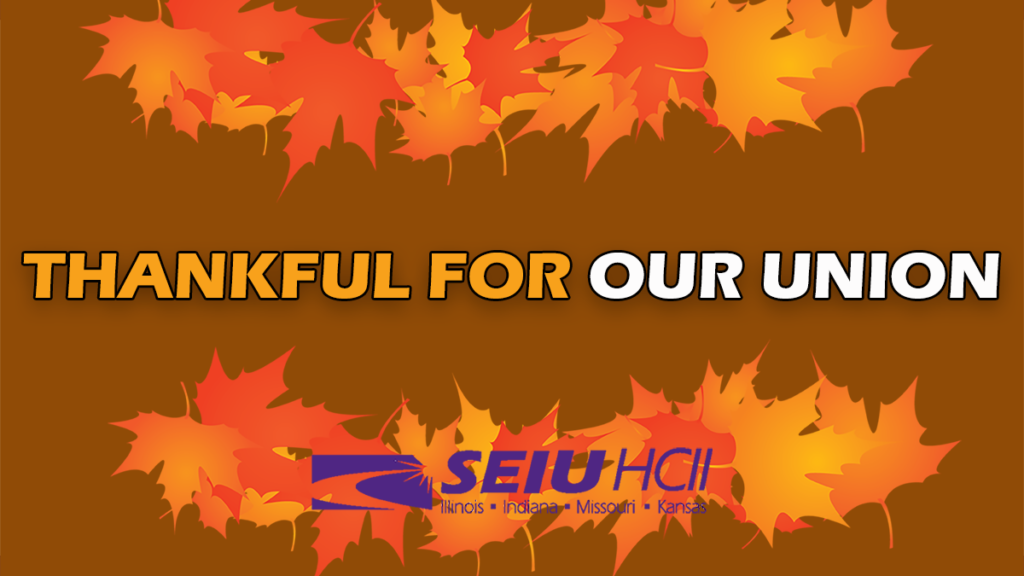 While I'm grateful for these victories, we cannot overlook the current fights that we are also waging TOGETHER heading into the holidays.
Recently, Blue Circle nursing home workers in St. Louis held a 4-day unfair labor practice strike in their fight for a fair contract. Home care and child care workers are keeping the pressure on our U.S. Senators to pass the Build Back Better Act on the heels of a powerful trip to Washington, D.C. that led to passage of the Act in the House. Illinois nursing home workers are holding their employers accountable and demanding that American Rescue Plan Act funding get funneled to frontline workers as it was meant to. Hospital workers at St. Louis University Hospital are in the midst of a contract fight that aims to raise standards in the region.
These fights are testament to the strength and determination that runs deep across our union. These fights are what lead to progress. These fights are what make victories possible.
Enjoy your Thanksgiving and then let's get back to the fights ahead to realize our vision for a society defined by freedom and justice, where we can all have quality education, healthcare and jobs, and where we can all live a full and plentiful life of our choosing.
In solidarity,
Greg Kelley
President, SEIU Healthcare IL IN MO KS
---
En nombre del equipo de SEIU Healthcare IL IN MO KS, quiero enviarles a usted y a su familia cálidos deseos de un feliz Día de Acción de Gracias.
Como unión, tenemos mucho que agradecer este año. Desde dar la bienvenida a los trabajadores de hogares de ancianos que han votado para convertirse en algunos de nuestros miembros más nuevos de SEIU Healthcare, hasta celebrar las recientes victorias de contratos para los trabajadores del hospital Ingalls y los trabajadores de cuidado en el hogar de Help at Home de Indiana, y honrando a nuestros proveedores de cuidado infantil en el hogar de Illinois que pronto recibirán un bono de héroe de $1,000 por su trabajo durante la pandemia, sabemos que todas estas fueron victorias muy reñidas que logramos JUNTOS.
Aunque estoy agradecido por estas victorias, no podemos pasar por alto las luchas actuales que también estamos luchando JUNTOS hacia los días de fiestas.
Recientemente, los trabajadores de hogares de ancianos de Blue Circle en St. Louis realizaron una huelga por prácticas laborales injustas de 4 días en su lucha por un contrato justo. Los trabajadores de cuidado en el hogar y cuidado infantil mantienen la presión sobre nuestros senadores de los EE. UU. para que aprueben la Ley Build Back Better luego de un poderoso viaje a Washington, D.C. que condujo a la aprobación de la Ley en la Cámara de Representantes. Los trabajadores de hogares de ancianos de Illinois están haciendo responsables a sus empleadores y exigen que los fondos de la Ley American Rescue Plan se canalicen a los trabajadores de primera línea como se supone. Los trabajadores del hospital de St. Louis University Hospital se encuentran en medio de una lucha contractual que tiene como objetivo elevar los estándares en la región.
Estas luchas son un testimonio de la fuerza y la determinación que atraviesa nuestra unión. Estas luchas son las que llevan al progreso. Estas luchas son las que hacen posible las victorias.
Disfrute su Día de Acción de Gracias y luego volvamos a las luchas que tenemos por delante para hacer realidad nuestra visión de una sociedad definida por la libertad y la justicia, donde todos podamos tener educación, cuidado de salud y empleos de calidad, y donde todos podamos vivir una vida plena y abundante de nuestra elección.
En solidaridad,
Greg Kelley
Presidente, SEIU Healthcare IL IN MO KS