Ahead of Labor Day, Frontline Nursing Home Workers Hold One-Day Unfair Labor Practice Strike with Mayor Tishaura Jones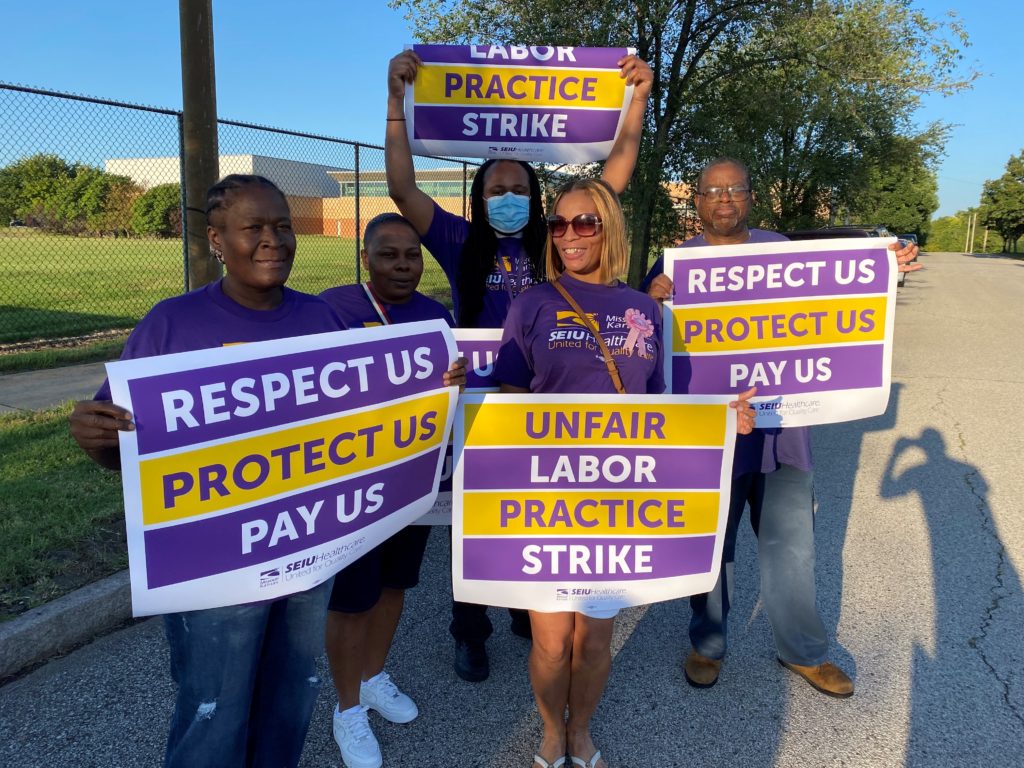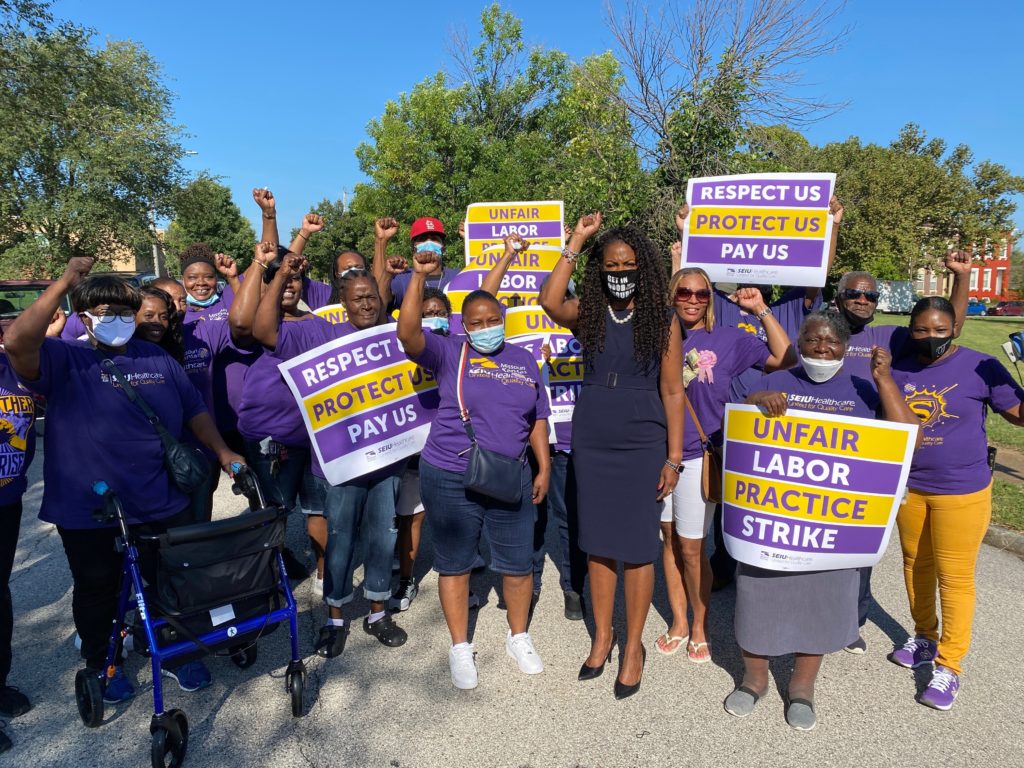 ST LOUIS – Frontline healthcare workers from Blue Circle Rehab and Nursing, represented by SEIU Healthcare Missouri, held a one-day Unfair Labor Practice Strike today. After months of negotiating a new contract, nursing home owners refuse to bargain in good faith. 
During a 9 a.m. press conference, workers were joined by allies and elected officials echoing their calls for respect, protection, and higher pay as they serve nursing home residents during the deadliest public health crisis of our lifetimes.
"No one wants to go on strike–even for a day–and lose hours and wages," said Lamarr Young, a Floor Tech who has worked at Blue Circle for 20 years. "But there comes a point when workers, including myself, have been treated so poorly, manipulated and taken advantage of, that we have to use all the tools available to us–and this includes the right to withhold our labor and go on strike."
Workers are calling on Blue Circle owners to bargain in good faith and return to the bargaining table and negotiate a contract that includes an increase in wages, affordable healthcare options, a safety committee to protect workers from COVID and other deadly diseases, and more. Blue Circle owners must respect, protect, and pay workers what they deserve – a refrain healthcare workers across the state are lifting up with their respective employers. 
Mayor Tishaura O. Jones, St. Louis Alderman James Page, Reverend Darryl Gray, and other community leaders and activists were on the picket line with Blue Circle workers and vowed to continue to stand with them until a fair agreement is reached.
"Ahead of Labor Day, SEIU Healthcare Missouri nursing home workers are showing the power of coming together in a union to demand a better future," said Mayor Tishaura O. Jones. "Essential nursing home workers need a fair agreement that honors the importance of their work."
"We have given the owners of Blue Circle every opportunity to bargain in good faith, and they simply refuse," said Lenny Jones, State Director and Vice President of SEIU Healthcare Missouri. "We will continue to fight for a fair contract for these workers, as well as other nursing home, hospital, and home care workers putting their lives on the line all across our state until everyone has the respect, protections, and pay they deserve."
Blue Circle workers will strike from 7:00am Thursday to the start of day shift (7:00am) Friday.
Watch the full press conference here.
###