Striking Infinity Nursing Home Workers Honored with "Bold Worker Justice Award" by Grassroots Collaborative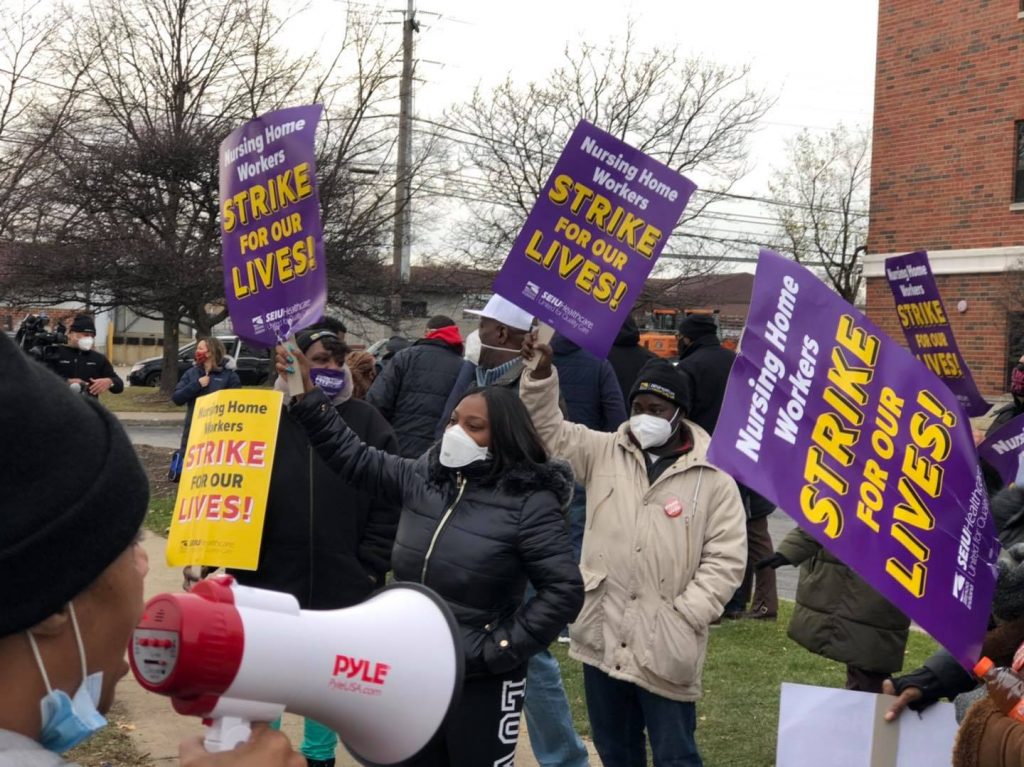 Pat Johnson, a CNA and Steward at Ambassador, Gave a Powerful Speech in Receiving the Award on Behalf of Infinity Workers for 12-Day in Nov. in 2020
See Patricia Johnson's full text of her acceptance speech below, a CNA & Steward at Ambassador Nursing Home in accepting the "Bold Worker Justice Award" from the Grassroots Collaborative on Behalf of Infinity Nursing Homes Workers' for their 12-day strike from Nov. 23rd to Dec. 4th.
---
My name is Pat Johnson.
I am a CNA and Steward at Ambassador nursing home.
I'm one of the leaders of our Infinity strike in November of 2020 that lasted 12-days and over the Thanksgiving holiday. And yes, we struck in the middle of the "second wave" of the COVID pandemic.
I am truly honored to receive this "Bold Justice Award" from the Grassroots Collaborative on behalf of my fellow Infinity strikers from 11 nursing homes.
We took such a bold and historic step to protect our residents, to stand up for each other, and for all the essential workers who would follow in our footsteps.
I am so proud of my fellow workers who said in a defining voice, "Yes! I am WORTH MORE AND I DESERVE MORE!"
This strike transformed me. It made me believe all that is possible when we fight together.

My fellow union sisters and brothers taught me, and showed me, the true meaning of loyalty, and solidarity, and resolve.
We won the best contract and the highest raises that we have ever gotten since we formed our Union!
We've lost thousands of our seniors and residents from this pandemic – people whom we love and protect.
I got COVID when the virus first started spreading a year ago and witnessed firsthand my co-workers getting sick while the fear, suffering and chaos enveloped all around us.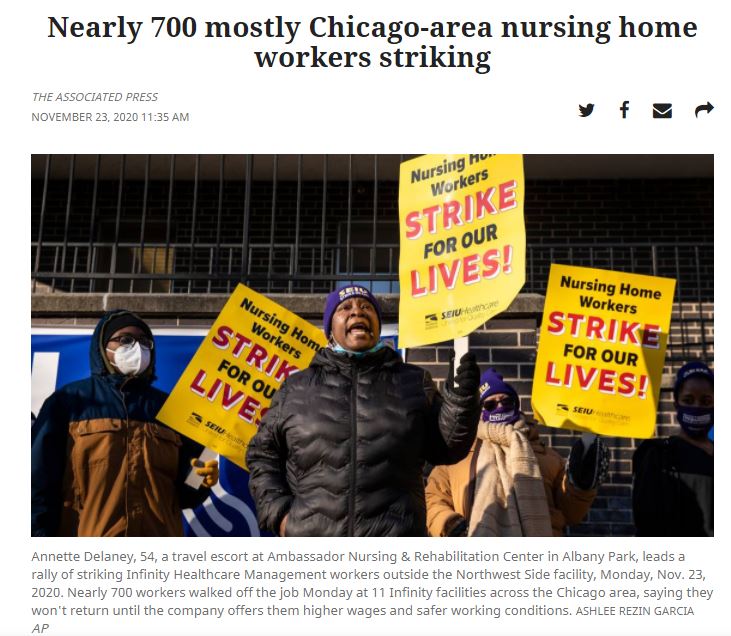 But as we rise from the ashes of this pandemic, our movement to demand real accountability and reform of the nursing home industry has never been more urgent.
And I especially want to honor my sister in the struggle, Anita Thompson and Annette Delaney. If it wasn't for her at my side I'm just not sure we could've pulled it off!
I am humbled to have been chosen to speak and receive this award. But this recognition is for all of us.
My final message is this: Always stand up and fight for what you believe in – and the fear you have inside will melt away.
Thank you and good night.