President Greg Kelley on shooting death of Adam Toledo
The following was released by SEIU Healthcare Illinois President Greg Kelley in response to the release of the video of the shooting death of Adam Toledo:

CHICAGO – "There are not words for times like these. For yet another unfocused yet starkly unsettling video of yet another murder. Adam Toledo was just a boy, a boy that some would all-too-eagerly throw away. A boy whose life was thrown away, in a matter of seconds, with empty helpless frightened hands reaching up for mercy. 

"For those of us who are parents, and especially those who are parents of black and brown children, we know that our children are not 'throwaway kids.' We know that they deserve to be seen as the full, feeling, promise-filled, and deserving human beings they are—both by police officers who are all too quick to target them within the sights of their prematurely raised guns and by politicians all too quick to target them with policies that build and reinforce the structures of racism and racialized economic inequity.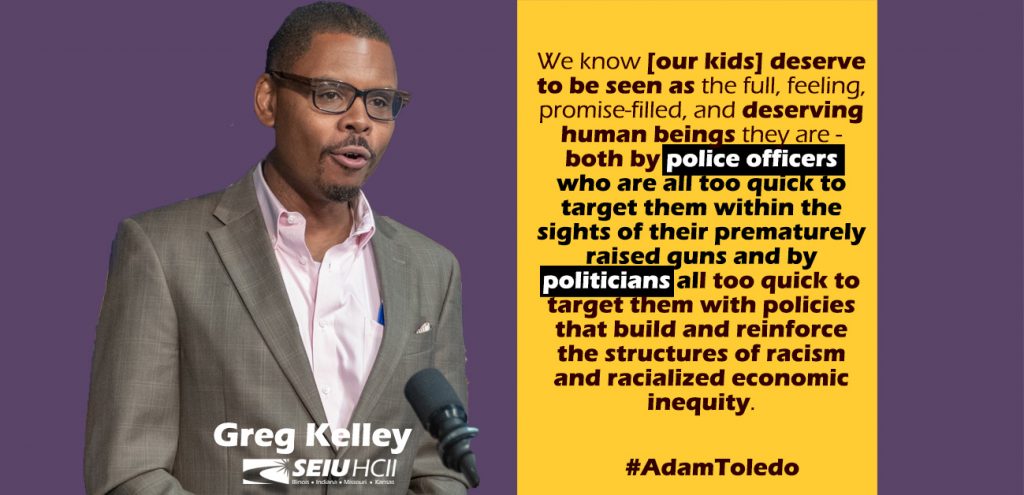 "This is a time for grief, for sadness and for rage. Which is to say, it's a time for love, because we are grieving and raging because of our love for our children, for all of our children. We are grieving because there are no throwaway kids in our hearts.
"Today we cry, we scream. When we're ready, we will march, protest, and act. All motivated by the same love that targets our children not with guns and racist policies and racist indifference, but with concern, with care, with the action and awareness and change that protects them from guns and provides them with the resources they need to know that they indeed are not throwaway kids. They are our future. And we will fight for them."
# # #