Help at Home Workers: Pandemic Bonus Pay this Friday!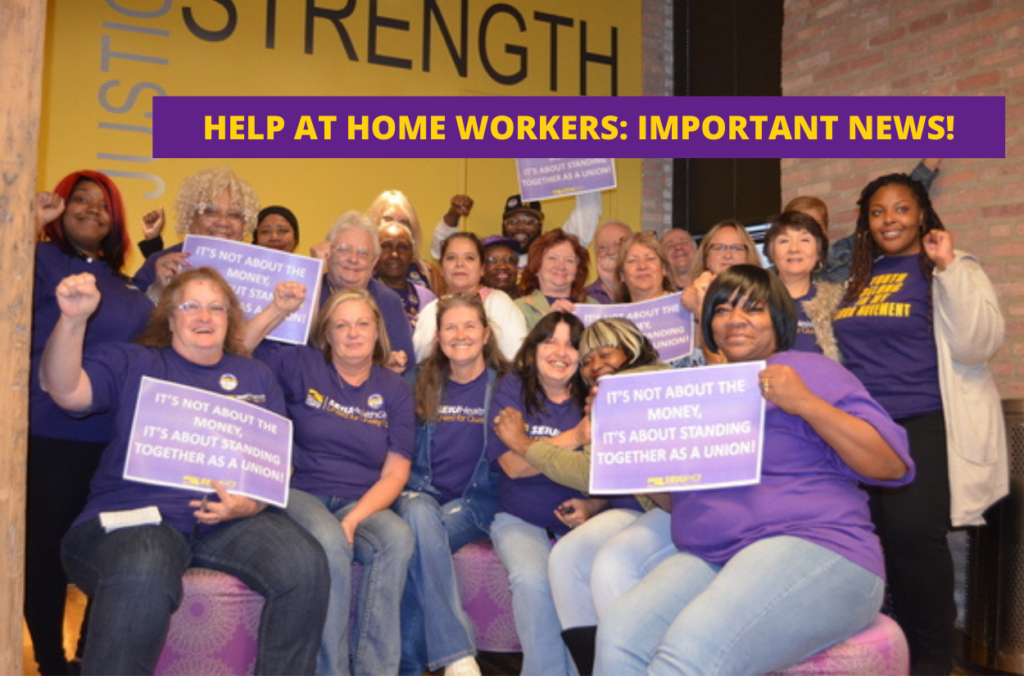 *Para leer este mensaje en español, por favor ver más abajo.

Attention Help at Home IL Workers:
We are happy to announce that Help at Home (HAH) IL workers will be receiving a Pandemic Bonus Pay this Friday! This is due to the agreement your Union Bargaining Committee reached w/ HAH back in December when we bargained for new raises that go into effect April 1, 2021.
In recognition for working during the COVID19 pandemic and with funding HAH received through The Cares Act Provider Relief Funds, eligible HAH workers will be receiving about $400! HAH has committed to use these funds towards caregivers as a show of gratitude for the caregivers' dedicated service to HAH clients while on the frontlines of the pandemic. Those eligible for this COVID Hazard Bonus were hired by Help at Home before Dec. 1, 2020, had client service hours between March 15 – Nov. 30, 2020, and are actively employed. These caregivers will receive the bonus in Help at Home's second payroll of February 2021. Those hired after Dec. 1, 2020, will be eligible for a bonus in the spring.
For more information about Help at Home, please visit its website at www.helpathome.com.
More details about your pandemic bonus pay: Although the payment is processed on Friday it probably wont appear on paycards/direct deposit until Monday, although some may see it on Saturday depending on their financial institution and wire traffic on Friday. Paper checks will go out Friday to the offices and be available for pick up on Monday. This pandemic bonus pay will be issued as a separate pay check and no union dues will be deducted, only the applicable taxes you already pay.

Indiana Help at Home members: Stay tuned!
En español:
¡Nos complace anunciar que los trabajadores de Help at Home (HAH) IL recibirán un pago de bonificación por pandemia este viernes! Esto se debe al acuerdo al que llegó su Comité de Negociación Sindical con HAH en diciembre cuando negociamos nuevos aumentos que entrarán en vigencia el 1 de abril de 2021.
En reconocimiento por trabajar durante la pandemia de COVID19 y con los fondos que HAH recibió a través de The Cares Act Provider Relief Funds, los trabajadores elegibles de HAH recibirán alrededor de $ 400. HAH se ha comprometido a utilizar estos fondos para los cuidadores como muestra de gratitud por el servicio dedicado de los cuidadores a los clientes de HAH mientras se encuentran en la primera línea de la pandemia. Las personas elegibles para este Bono de riesgo de COVID fueron contratadas por Help at Home antes del 1 de diciembre de 2020, tenían horario de atención al cliente entre el 15 de marzo y el 30 de noviembre de 2020 y están empleados activamente. Estos cuidadores recibirán el bono en la segunda nómina de Help at Home de febrero de 2021. Aquellos contratados después del 1 de diciembre de 2020, serán elegibles para un bono en la primavera.
Para obtener más información sobre Help at Home, visite su sitio web en http://www.helpathome.com
Más detalles sobre su pago de bonificación por pandemia: aunque el pago se procesa el viernes, probablemente no aparecerá en las tarjetas de pago / depósito directo hasta el lunes, aunque algunos pueden verlo el sábado según su institución financiera y el tráfico de transferencias del viernes. Los cheques en papel se enviarán el viernes a las oficinas y estarán disponibles para recogerlos el lunes. Este pago de bonificación por pandemia se emitirá como un cheque de pago por separado y no se deducirán las cuotas sindicales, solo los impuestos aplicables que ya pague.