Missouri & Kansas 2020 SEIU Endorsements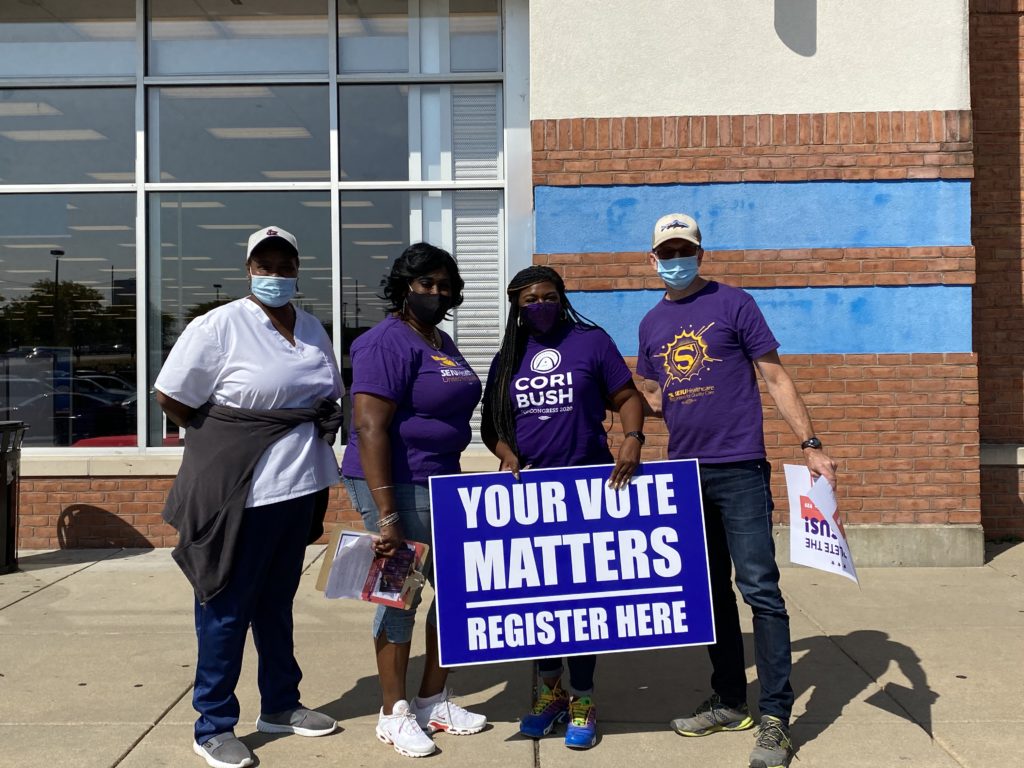 For endorsements and voting info for other states, click here.
Voting Resources
Election Day is Tuesday, November 3rd. Go to Election Day in IL Tuesday, November 3rd from 6 AM to 7 PM. Visit https://iwillvote.com/ to find out where to vote on Election Day. More information is below.
Endorsements
President/Vice President
Joe Biden/ Kamala Harris
---
Missouri Governor
Nicole Galloway
Missouri Lieutenant Governor
Alissia Canady
Missouri Secretary of State
Yinka Faleti
Missouri Treasurer
Vicki Lorenz Englund
Missouri Attorney General
Rich Finneran
NO on Missouri Amendment 3
---
United States Congress
Barbara Bollier (KS)
Sharice Davids (KS-3)
Cori Bush (MO-1)
Jill Schupp (MO-2)
Lindsey Simmons (MO-4)
Emanuel Cleaver II (MO-5)
Gena L. Ross (MO-6)
Teresa Montseny (MO-7)
Kathy Ellis (MO-8)
---
Missouri State Senate
Doug Beck (SD 1)
Elaine Freeman Gannon (SD 3)
Steve Roberts (SD 5)
Greg Razer (SD 7)
Barbara Washington (SD 9)
John Joseph Rizzo (SD 11)
Angela Walton (SD 13)
Deb Lavender (SD 15)
Lauren Arthur (SD 17)
Judy Baker (SD 19)
Mark Bliss (SD 21)
Richard Orr (SD 23)
Donnie Owens (SD 27)
Raymond Kinney (SD 31)
---
Missouri State House of Representatives
Colby Murphy (HD 10)
Wade Hugh Kiefer (HD 12)
Vic Abundis (HD 13)
Ashley Aune (HD 14)
Maggie Nurrenbern (HD 15)
James Shackelford (HD 16)
Mark Ellebracht (HD 17)
Wes Rogers (HD 18)
Ingrid Burnett (HD 19)
Bill E. Kidd (HD 20)
Robert Sauls (HD 21)
Yolanda Young (HD 22)
Michael L. Johnson (HD 23)
Emily Weber (HD 24)
Patty Lewis (HD 25)
Ashley Bland Manlove (HD 26)
Richard Brown (HD 27)
Jerome Barnes (HD 28)
Rory Rowland (HD 29)
Art Schaaf (HD 30)
Rhonda Dolan (HD 31)
Chris Hager (HD 34)
Keri Ingle (HD 35)
Mark Sharp (HD 36)
Annette Turnbaugh (HD 37)
Jacque Sample (HD 44)
Kip Kendrick (HD 45)
Martha Stevens (HD 46)
Adrian Plank (HD 47)
Aaliyah Bailey (HD 64)
Bill Otto (HD 65)
Marlene Terry (HD 66)
Neil Smith (HD 67)
Jay Mosley (HD 68)
Gretchen Bangert (HD 69)
Paula Brown (HD 70)
LaDonna Applebaum (HD 71)
Doug Clemons (HD 72)
Raychel C. Proudie (HD 73)
Michael Person (HD 74)
Alan Gray (HD 75)
Marlon Anderson (HD 76)
Kimberly-Ann Collins (HD 77)
Rasheen Aldridge (HD 78)
LaKeySha Bosley (HD 79)
Peter Merideth (HD 80)
Steve Butz (HD 81)
Donna M.C. Baringer (HD 82)
Jo Doll (HD 83)
Wiley Price (HD 84)
Kevin Windham (HD 85)
Joe Adams (HD 86)
Ian Mackey (HD 87)
Tracy McCreery (HD 88)
Luke Barber (HD 89)
Barbara Phifer (HD 90)
Sarah Unsicker (HD 91)
Michael Burton (HD 92)
Bridget Walsh Moore (HD 93)
Jean Pretto (HD 94)
Ann L. Zimpfer (HD 95)
Erica Hoffman (HD 96)
Angie Schaefer (HD 98)
Trish Gunby (HD 99)
Cindy Berne (HD 106)
Crystal Quade (HD 132)
Cindy Slimp (HD 133)
Derrick Nowlin (HD 134)
Betsy Fogle (HD 135)
Andy Leighton (HD 147)
---
City of St. Louis – Sheriff
Vernon Betts
City of St. Louis – Circuit Attorney
Kim Gardner
City of St. Louis – Treasurer
Tishaura Jones
Jackson County – Prosecutor
Jean Peters Baker
St. Louis County – Executive
Sam Page
St. Louis County – 2nd District
Kelli Dunaway
St. Louis County – 4th District
Shalonda Webb
---
City of St. Louis Ballot Initiatives
Vote YES on Proposition D
Vote NO on Proposition 1
Vote NO on Proposition R
Jackson County Ballot Initiatives
Vote YES on Question 2