VICTORY! LORETTO STRIKE FOR BLACK LIVES AVERTED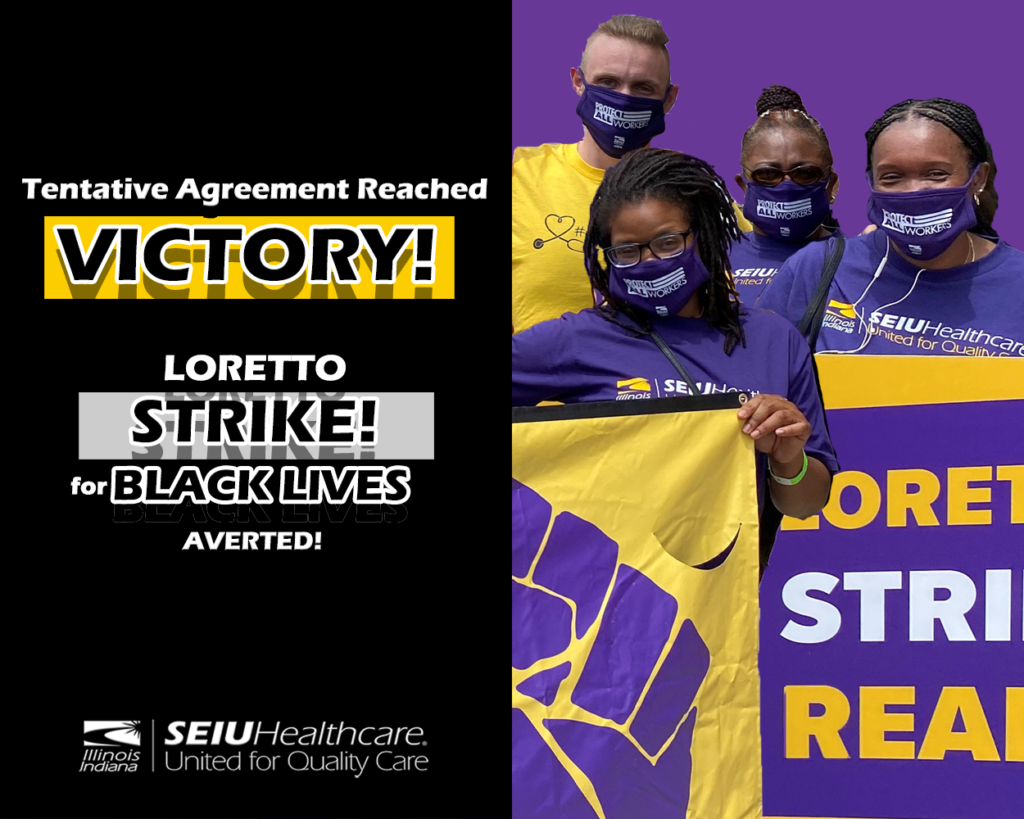 ESSENTIAL WORKERS WIN TENTATIVE AGREEMENT PROVIDING FOR LIFE CHANGING WAGE INCREASES AND STAFFING PROVISIONS
The Frontline Caregivers Were Prepared to Start an Unfair Labor Practice Strike on Monday to Safeguard the Health and Well-Being of a Largely Black and Brown Workforce and the Black and Brown Communities They Serve
CHICAGO—Frontline workers at Loretto Hospital, a safety net hospital serving low-income Black and Brown West Side communities, reached a tentative agreement last night with management, averting their scheduled July 20th Unfair Labor Practice #StrikeforBlackLives.

The tentative agreement provides for significant, life-changing wins that will help safeguard workers, their families, their patients and communities.
The contract gains include:
Significant wage increases, with all workers being brought to at least $15 or more an hour, with raises ranging from $1.25 to close to $3 an hour, and regular raises based on seniority
Improved staffing provisions enforced through a short-staffing premium to be paid to workers in all job classifications.
Fair Work Week provisions providing workers with greater stability in their work schedules.
Immigration protections
Workers announced their July 20th Unfair Labor Practices strike last Thursday, following management's failure to bargain in good faith over the wage and staffing issues that have long impacted both workers and their patients. Workers had been in bargaining for a new contract since last December.
In their fight for a fair contract and more recently, in their countdown to strike, the frontline workers highlighted how Loretto's low wages and short staffing have contributed to the racial injustices that impact the health and well-being of the West Side communities the safety net hospital serves.

The life expectancy for residents of Austin and other West Side neighborhoods served by Loretto is as much as 20 years lower than that for residents in predominantly white, wealthier Chicago communities. Loretto workers witness the impact of poverty on community health every day on the job. Their fight for a fair contract, and their willingness to go on strike, was motivated by the desire to have the resources they need in order to provide quality care for their patients—without becoming victims of poverty and poverty-related health conditions themselves.

Workers will start voting early next week on ratification of the tentative agreement.

First, however, they will follow through on their plans to gather outside Loretto Hospital on Monday morning as part of the Strike for Black Lives National Day of Action. Instead of striking, they will celebrate their contract victory and show their solidarity for workers across the city and country calling for the resources, wages and workplace protections needed to protect Black lives on the job and in our communities.

They will also join with community leaders to highlight the need for more funding for safety net hospitals like Loretto, which serve the Black and Brown communities with the greatest need for healthcare, and yet have far fewer resources than health centers in wealthier and predominantly white communities.