#StrikeForOurLives: Illinois Nursing Home Workers Issue Strike Notices at Multiple Facilities Highlighting Industry's Gross Failures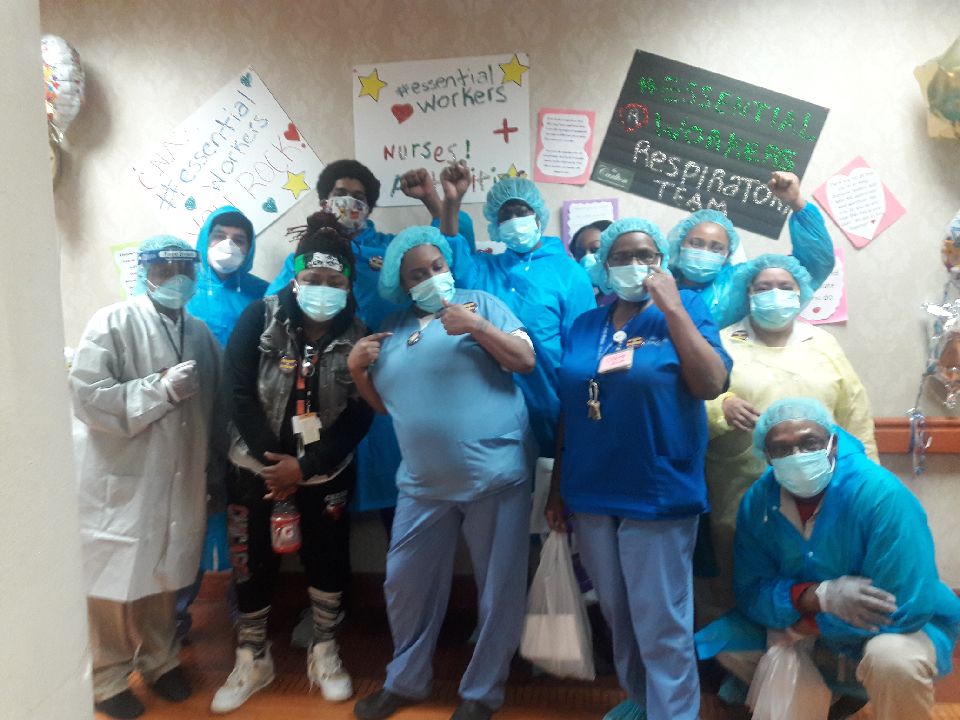 Developing story, check back for more photos, videos, and news coverage.
(April 27, 2020) — Nursing home workers are issuing 10-day strike notices at multiple facilities and could go on a ULP (unfair labor practice) strike on Friday, May 8th, 2020 if the nursing home association refuses to agree to a contract. The master association contract expires on April 30th.
Nursing home workers are on the frontlines of the Covid-19 pandemic. Workers from all across the region and state have spoken out that we are not being given proper PPE (personal protective equipment), training, immediate reporting of Covid-19 cases and communication by management with staff, as well as longstanding crises of short staffing, poverty wages, and unable to access paid sick time without punishment.
We also generated incredible news coverage from our announcement including the Associated Press; WBEZ Public Radio; the Chicago Tribune; Chicago Sun-Times; Daily Herald; WGN Ch. 9; ABC 7 Chicago; among many other media outlets.
Keep checking back to this blog post — scroll below to see photos and videos of nursing home workers speaking out and issuing strike notices against nursing home association.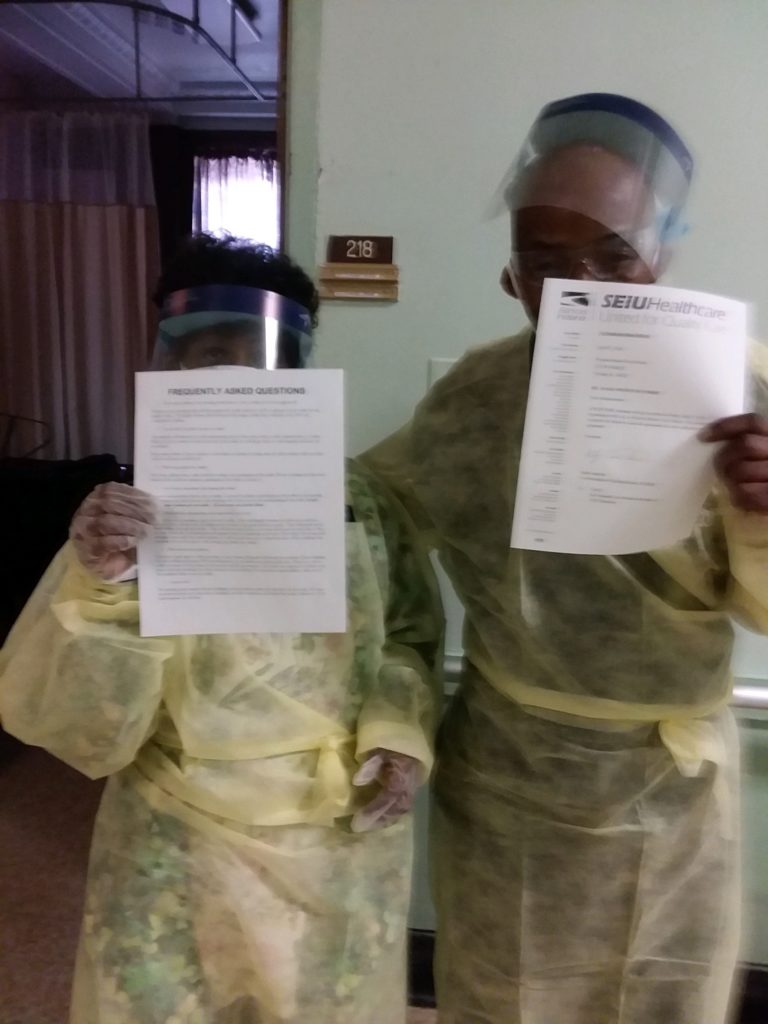 Strike notices for May 8th were delivered at the following nursing homes:
| | | |
| --- | --- | --- |
| Nursing Home | Address | City |
| Alden Debes Manor | 550 S MULFORD AVE | Rockford |
| Alden Lakeland | 820 W LAWRENCE | Chicago |
| Alden Princeton | 255 W 69 ST | Chicago |
| Alden-Des Plaines | 1221 E GOLF RD | Des Plaines |
| Alden-Estates of Barrington | 1420 S BARRINGTON RD | Barrington |
| Alden-Lincoln Park | 504 W WELLINGTON AVE | Chicago |
| Alden-Town Manor | 6120 W Ogden | Cicero |
| Alden-Village North | 7464 N SHERIDAN RD | Chicago |
| Alden-Waterford | 2021 RANDI DR | Aurora |
| Alden-Wentworth | 201 W 69 ST | Chicago |
| Aperion Care Capitol | 555 W CARPENTER RD | Springfield |
| Aperion Care Dolton | 14325 S BLACKSTONE | Dolton |
| Aperion Care Galesburg | 1145 FRANK ST | Galesburg |
| Aperion Care Highwood | 50 PLEASANT AVE | Highwood |
| Aperion Care Jacksonville | 1021 N CHURCH ST | Jacksonville |
| Aperion Care Midlothian | 3249 W 147 ST | Midlothian |
| Aperion West Ridge/ Rideview | 6450 N RIDGE BLVD | Chicago |
| Astoria | 6300 N CALIFORNIA AVE | Chicago |
| Austin Oasis | 901 S AUSTIN BLVD | Chicago |
| Avantara Evergreen Park | 10124 S KEDZIE | Evergreen Park |
| Balmoral | 2055 W BALMORAL AVE | Chicago |
| Berkeley | 6909 W NORTH AVE | Oak Park |
| Bridgeview Healthcare Center | 8100 S HARLEM AVE | Bridgeview |
| Carlton At The Lake | 725 W MONTROSE AVE | Chicago |
| Chalet Living & Rehab | 7350 N SHERIDAN RD | Chicago |
| Elevate Care Irving Park | 4340 N KEYSTONE AVE | Chicago |
| Hickory Nursing Pavilion | 9246 S ROBERTS RD | Hickory Hills |
| Lake Front Healthcare Center | 7618 N SHERIDAN RD | Chicago |
| Mayfield Care Center | 5905 W WASHINGTON | Chicago |
| Oak Park Oasis | 625 N Harlem Ave | Oak Park |
| Rainbow Beach Nursing Center | 7325 S EXCHANGE | Chicago |
| Sheridan Shores | 5838 N SHERIDAN RD | Chicago |
| Sterling Pavilion | 105 E 23rd St | Sterling |
| Symphony at Aria | 4600 N FRONTAGE RD | Hillside |
| Symphony at Chicago West | 5130 W Jackson Blvd | Chicago |
| Symphony at Midway | 4437 S Cicero Ave | Chicago |
| Symphony at Morgan Park | 10935 S Halsted St | Chicago |
| The Villa at Windsor Park Nursing & Re | h2649 E 75th St | Chicago |
| Willow Crest Nursing Pavilion | 515 N Main St, | Sandwich |
| Winston Manor | 2155 W PIERCE | Chicago |