100 Faith Leaders & Community Groups Publish Letter in Sun Times in Support of Nursing Home Workers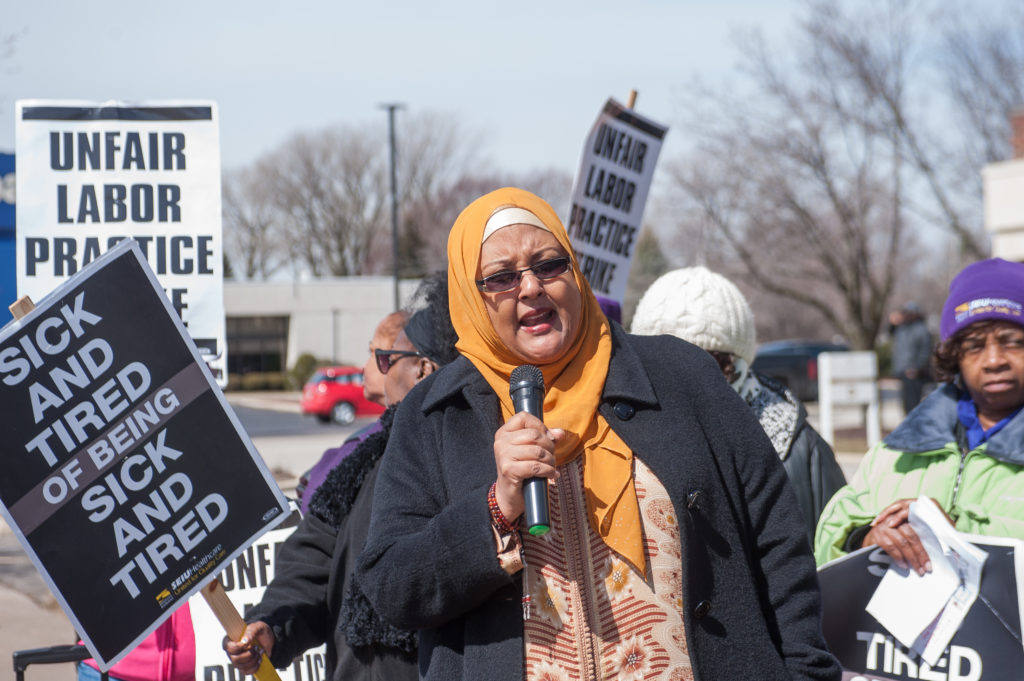 The following letter appeared in a full page ad in the Chicago Sun Times on 4/29. See the full text below and signatories below.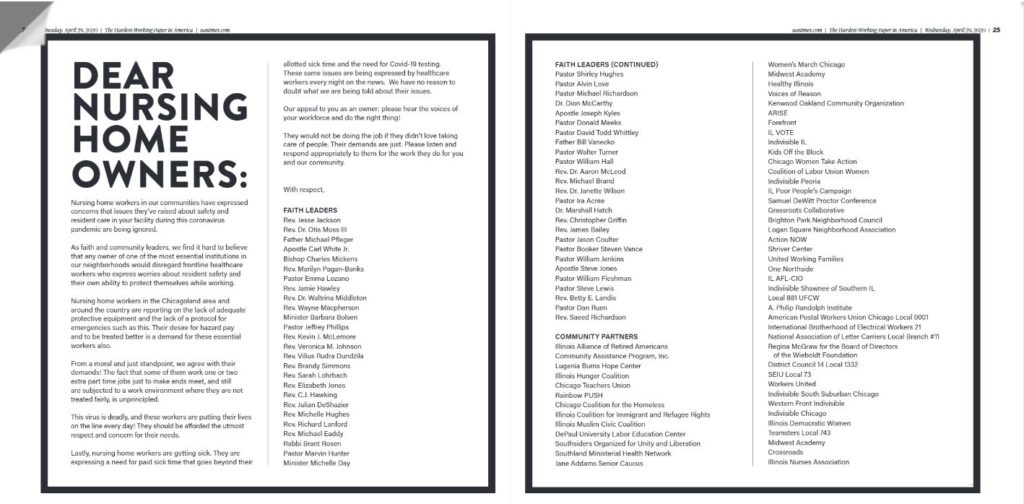 Dear Nursing Home Owners:
Nursing home workers in our communities have expressed concerns that issues they've raised about safety and resident care in your facility during this coronavirus pandemic are being ignored.
As faith and community leaders, we find it hard to believe that any owner of one of the most essential institutions in our neighborhoods would disregard frontline healthcare workers who express worries about resident safety and their own ability to protect themselves while working.
Nursing home workers in the Chicagoland area and around the country are reporting on the lack of adequate protective equipment and the lack of a protocol for emergencies such as this. Their desire for hazard pay and to be treated better is a demand for these essential workers also.
From a moral and just standpoint, we agree with their demands! The fact that some of them work one or two extra part time jobs just to make ends meet and still are subjected to a work environment where they are not treated fairly, is unprincipled.
This virus is deadly, and these workers are putting their lives on the line every day! They should be afforded the utmost respect and concern about their needs.
Lastly, nursing home workers are getting sick. They are expressing a need for paid sick time that goes beyond their allotted sick time and the need for Covid-19 testing.
These same issues are being expressed by healthcare workers every night on the news. We have no reason to doubt what we are being told about their issues.
Our appeal to you as an owner, please hear the voices of your workforce and do the right thing!
They would not be doing the job if they didn't love taking care of people. Their demands are just. Please listen and respond appropriately to them for the work they do for you and our community.
With respect,
Faith Leaders:
Rev. Jesse Jackson
Rev. Dr. Otis Moss III
Father Michael Pfleger
Apostle Carl White, Jr.
Bishop Charles Mickens
Rev. Marilyn Pagan-Banks
Pastor Emma Lozano
Rev. Jamie Hawley
Rev. Dr. Waltrina Middleton
Rev. Wayne Macpherson
Minister Barbara Bolsen
Pastor Jeffrey Phillips
Rev. Kevin J. McLemore
Rev. Veronica M. Johnson
Rev. Vilius Rudra Dundzila
Rev. Brandy Simmons
Rev. Sarah Lohrbach
Rev. Elizabeth Jones
Rev. C.J. Hawking
Rev. Julian DeShazier
Rev. Michelle Hughes
Rev. Richard Lanford
Rev. Michael Eaddy
Rabbi Brant Rosen
Pastor Marvin Hunter
Minister Michelle Day
Pastor Shirley Hughes
Pastor Alvin Love
Pastor Michael Richardson
Dr. Dion McCarthy
Apostle Joseph Kyles
Pastor Donald Meeks
Pastor David Todd Whittley
Father Bill Vanecko
Pastor Walter Turner
Pastor William Hall
Rev. Dr. Aaron McLeod
Rev. Michael Brand
Rev. Dr. Janette Wilson
Pastor Ira Acree
Dr. Marshall Hatch
Rev. Christopher Griffin
Rev. James Bailey
Pastor Jason Coulter
Pastor Booker Steven Vance
Pastor William Jenkins
Apostle Steve Jones
Pastor William Fleshman
Pastor Steve Lewis
Rev. Betty E. Landis
Rabbi Andrea London
Community Partners:
Illinois Alliance of Retired Americans
Community Assistance Program, Inc.
Lugenia Burns Hope Center
Illinois Hunger Coalition
Chicago Teacher's Union
Rainbow PUSH
Chicago Coalition for the Homeless
Illinois Coalition for Immigrant and Refugee
Illinois Muslim Civic Coalition
DePaul University Labor Education Center
Southsiders Organized for Unity and Liberat
Southland Ministerial Health Network
Jane Addams Senior Caucus
Women's March Chicago
Midwest Academy
Healthy Illinois
Voices of Reason
Kenwood Oakland Community Organization
ARISE
Forefront
IL VOTE
Indivisible IL
Kids Off the Block
Chicago Women Take Action
Coalition of Labor Union Women
Indivisible Peoria
IL Poor People's Campaign
Samuel DeWitt Proctor Conference
Grassroots Collaborative
Brighton Park Neighborhood Council
Logan Square Neighborhood Association
Action NOW
Shriver Center
United Working Families
One Northside
IL AFL-CIO
Indivisible Shawnee of Southern IL
Local 881 UFCWPhillip Randolph Institute
American Postal Workers Union Chicago Loc
International Brotherhood of Electrical Wor
National Association of Letter Carriers Local
Regina McGraw for the Board of Directors o
District Council 14 Local 1332
SEIU Local 73
Worker's United
Indivisible South Suburban Chicago
Western Front Indivisible
Indivisible Chicago
Illinois Democratic Women
Steelworkers Organization of Active Retirees