Leader Profile: Dorey Norwood, Oak Park Oasis Nursing Home: "My union fought to win my job back which is why I'll never quit SEIU Healthcare!"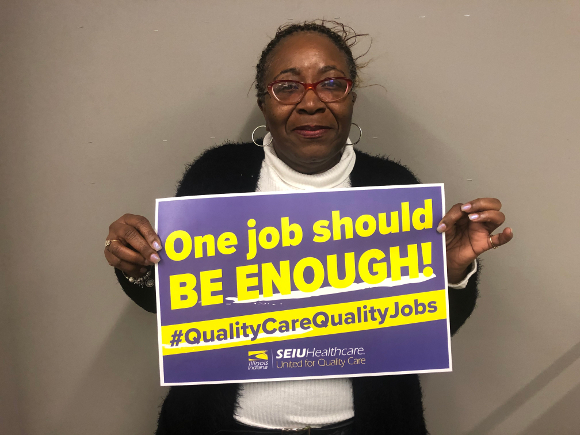 Dorey Norwood was fired three times because she was a leader in our union and a steward at Oak Park Oasis nursing home. But each time our union fought for and won her job back.
The worst was when she was terminated on January 22nd, 2014 and was out of her job for over a year.
"My union never gave up fighting for me. I knew I was unfairly fired because I was a steward and SEIU Healthcare had my back the whole time.  My union took my case to arbitration and won which is why I'll never quit SEIU Healthcare!"
Dorey Norwood was reinstated on March 30th, 2015 will all of her back pay. But during that year of not being allowed to work at the nursing home she scraped together odd jobs and worked as a home healthcare aide just to make ends meet. It was one of the most difficult years of her life. "I am forever grateful that I have my union."
This coming October Dorey Norwood will have worked as a receptionist at Oak Park Oasis nursing home for 12 years.
She makes $13.10 an hour – a "dime" over Chicago's current minimum wage, which is yet more proof of the nursing home industry's greed.
And yet, like so many nursing home workers who are paid poverty level wages, she is extremely dedicated to the residents and the families who ring the front desk constantly checking in on their loved ones.
"In many ways, I'm the face of this nursing home. When families and guests walk into the lobby, or call the front desk, I'm the first one they meet and interact with. I see myself as their advocate.  It's important to let them know that our CNAs and all of our workers are doing our very best to provide excellent care despite our many challenges throughout the nursing home industry.
"Every single nursing home worker and family is struggling within this current broken system. We need to fundamentally overhaul this industry and it starts with ending poverty wages and investing in our workforce to improve quality care," said Norwood. "The way the nursing home industry is currently working is failing everyone, and that's a fact."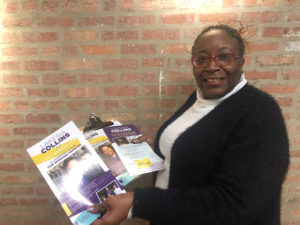 Norwood has been a union steward for eight years. She is starting her internship with our union to organize fellow nursing home workers as the Association Master Contract ends April 30th. Bargaining is expected to begin sometime in early February.
Norwood knows poverty all too well. She grew up in Cabrini Green in Chicago when she was young and her family moved to a safer neighborhood. But the truth is that poverty has followed her throughout her life, especially now working within the nursing home industry.
"I raised my daughter, and am the proud grandma of a 19-year and 5-year-old whom I cherish. I survived when I was younger through love, a lot of hard work, and even more sacrifice.  But we shouldn't have to suffer any longer. Now is the time to end the poverty wages that affect every nursing home worker. I'm fighting for living wages not just for myself, but for every other working and single mom so they don't have to struggle like I did. Our upcoming contract is the fight for our future.
"I say to my co-workers, one job should be enough! And then I get them to commit to come to our membership meetings and I say 'bring kids and babies with you' – I won't take any excuses for folks not getting involved. 2020 is our year to win a transformative contract that will set us free!"
Norwood recognizes that her fellow workers look to her for leadership. "I say to my fellow nursing home workers, are you a part of this fight?  If you are, then join in. Don't just say you want a raise—don't just say you're worth more — you gotta join us so we can all fight together!"