SEIU Healthcare Issues Statement After Illinois Health Facilities Review Board Holds Public Hearing as Quorum Health Corp. Presses Forward with Shutting Down MetroSouth Medical Center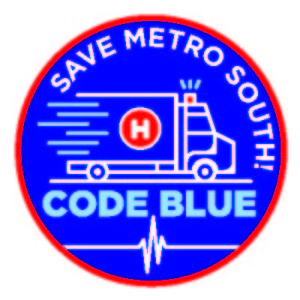 Speaker After Speaker from MetroSouth Including Hospital Workers, Patients, Nurses, Doctors, Fire Fighters and EMTs Forcefully Oppose Closing MetroSouth and Slammed Quorum's Agenda that Advocates Say Will Cost Lives
CONTACT: Scott.Vogel@seiuhcil.org or Catherine.Murrell@seiuhcil.org;
(July 24th, 2019, CHICAGO)—The Illinois Health Facilities and Services Review Board held a public hearing inside St. Benedict Roman Catholic Church, across the street from MetroSouth Medical Center, to hear testimony about the impact of Quorum Health's plans to shut down Blue Island's community hospital by November of this year unless the company can find a buyer or identify another system to take over the operation.
Healthcare workers, patients, first responders, and longtime residents offered powerful testimonials about what MetroSouth means to them, retelling stories and anecdotes of loved ones who were saved and cared for by MetroSouth hospital staff, and personal reflections of births at the facility spanning several generations.
State Representatives from the region including Robert Rita (28th District), William Davis (30th District), and Justin Slaughter (27th District) along with Senator Emil Jones III (14th District) argued that shuttering MetroSouth is simply not an option and would create a healthcare desert, cost lives by reducing access to emergency and health services, and closing a major economic engine in the region that would eliminate over 1,000 jobs.
Anne Igoe, Vice-President of SEIU Healthcare Illinois' Health Systems Division, testified at the hearing and earned a standing ovation from attendees. Igoe made the case that Quorum Health Corp.'s decision to close MetroSouth was shrouded in misleading statements and lacking transparency. Quorum's highly questionable business tactics have resulted in a class-action lawsuit against the company suggesting that Quorum and its parent company, Community Health Systems, may have defrauded investors.
Ms. Igoe released the following statement based off her testimony at today's hearing to the Health Facilities Board:
"An ongoing class action lawsuit alleges that Community Health Systems (CHS), Inc., created Quorum Health Corp. as a new subsidiary in order to offload under-performing hospitals, based on their projected low or declining profits.
"The fact that the CEO, Mr. Miller, and the CFO, Mr. Culotta, moved from CHS to Quorum to execute CHS' alleged plan to dump the corporation's bad assets, and then received exorbitant severance pay and lucrative consulting jobs after exiting Quorum is troubling, and suggests that they might have benefited from a potentially fraudulent spinoff scheme.
"The allegations in the case are extremely troubling and require explanation and investigation to confirm the law wasn't broken.
"Therefore, based on the facts, and Quorum's troubling behavior and alleged fraud, the Health Facilities Review Board must stand with the people of Blue Island and demand that Quorum continue operating MetroSouth and not permit the hospital to be shuttered.
"And if the Facilities Review Board believes that they do not have the proper authority, because of the timing of Quorum's application to subvert the spirit of the law when deciding to announce its hospital's closure, then we also call on Gov. Pritzker's administration to use all of its power to keep MetroSouth open until another operator can take over."
–END–