SEIU #HCIIMK10For10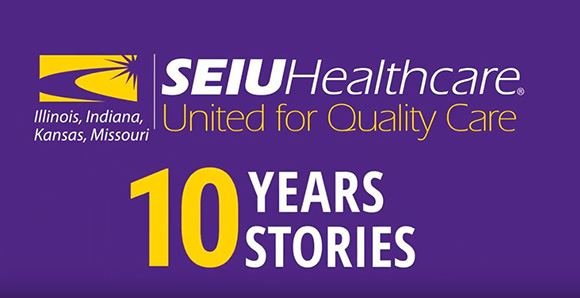 Updated 08/01/19
Over the past 10 years, SEIU Healthcare Illinois Indiana Missouri Kansas members have fought numerous battles to build a better world both in our workplaces and in our communities. Over the next few weeks we'll unveil 10 videos that highlight 10 years of SEIU HCIIMK history & our vision for the future.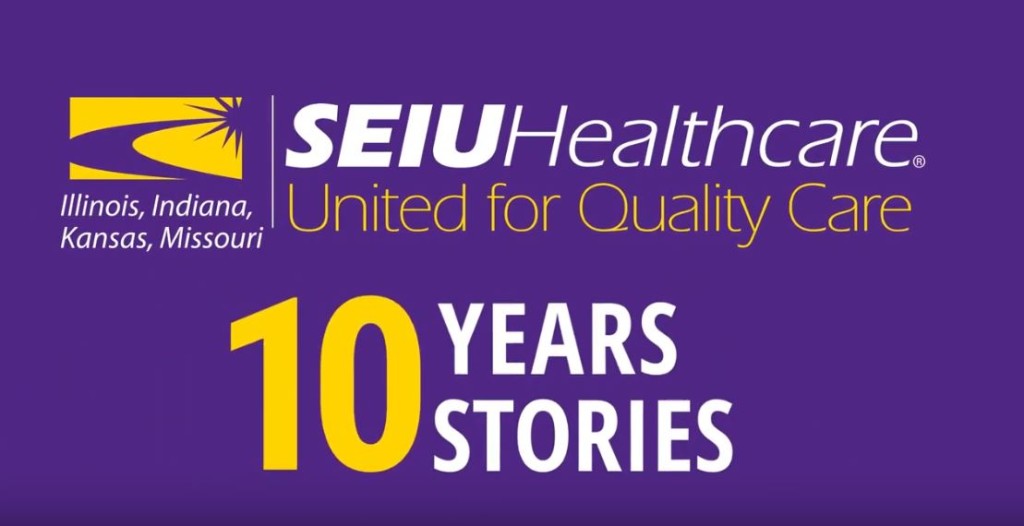 Video 1: Who We Are
We are unique. We are inclusive. We are BOLD.
This fight is a working class fight — we're fighting for dignity and respect, living wages, and benefits for our members — as well as a fight to create better communities across our states and beyond. It's about making bold demands in our quest for a society built on social, racial and economic justice.
While we've won, we know there are more battles ahead. Take a walk with us back through the last 10 years of historic struggles and hard won victories.
When we fight, we win!
Video 2: From Red to Blue – Winning Indiana
"SEIU taught me the most valuable lesson of my life – that is that ordinary people can do extraordinary things so long as they are organized, so long as they are mobilized, former President Barack Obama told a crowd in 2008 when he was on the campaign trail before he won a historic electoral victory."
In this video, we take a look at how SEIU Healthcare members mobilized and organized on the campaign trail for Barack Obama, specifically in Indiana, and helped turn the traditionally red state blue. The state hadn't voted for a Democrat since 1964.
When we fight, we win!
Video 3: Rescuing Child Care
In 2015, then-llinois Governor Bruce Rauner began a years-long attack on state-assisted child care. Child care providers – along with parents, allies, and their SEIU sisters and brothers – forced Rauner to captiulate and rescued child care. Now we're fighting to get to #childcareforall and higher wages and free college for providers.
When we fight, we win!
Video 4: The Fight for Home Care
When Bruce Rauner tried to cut home care services, he didn't understand who he was up against. We got everyone involved. Home care workers and those we serve not only stopped the cuts, we've since strengthened home care programs with raises and other victories.
When we fight, we win!
Video 5: Saving Roseland
By saving Roseland Hospital, we saved lives. The hospital still faces a threat today though. We're going fundamentally fix health care for our communities through our union and by changing the face of politics.
Video 6: Strike Averted
"We changed up our game. The way we used to do things, we had to do it totally different at this point."
6,000 workers at 60 nursing homes were ready to strike. Watch to see how it unfolded and what we won.
 Video 7:  Defeating 'Right to Work' in Missouri
"They wanted to destroy us…to take away our voice."
Watch how we worked together with unions and communities statewide to defeat dangerous right to work legislation that would've silenced workers' voices
Video 8:  The 104-Day Strike
"I'm a labor leader. I like that it brought something out in me that I didn't know I had," said Brenda, who helped win the historic 104-Day strike at Christian Care Nursing Home in Ferguson, MO. WHEN WE FIGHT, WE WIN!
Video 9:  The Fight for 15
The initial reactions from the media was silence and disbelief, but we kept fighting.  In February, IL became the first Midwestern state to pass the #Fightfor15.
Our fight for fair wages for all working people, everywhere, will never stop.
Video 10: Transforming Our Future
We learned to take risks, not being afraid to fail, to build alliances & support among the community and like-minded politicians.