Victory After a 3-Year Battle: Bria of Cahokia Members Approve New Contract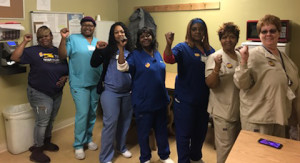 SEIU members at Bria of Cahokia nursing home stuck together to see a hard-fought victory through earlier this year.
Following three years of negotiations, workers approved a new agreement that includes raising wages by as much as 30% of the life of the contract!
Members in the shop stepped up and even voted to approve a strike if all workers didn't get a pay increase under the contract. Their perseverance paid off and shows what we can achieve when we're united.