SEIU Healthcare's Statement on Toni Preckwinkle Securing Runoff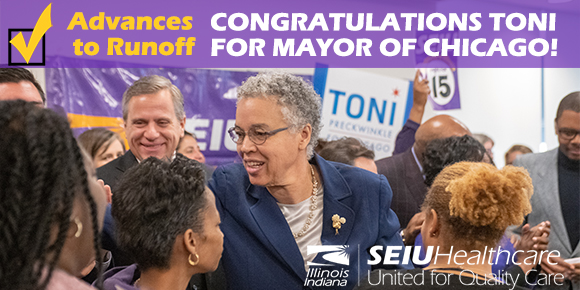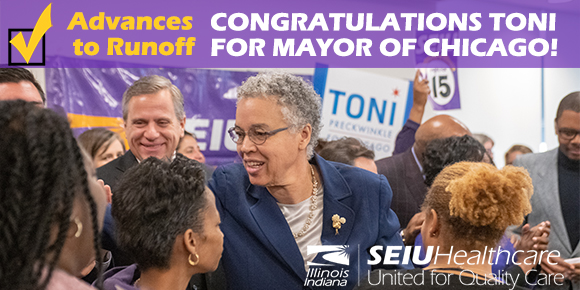 SEIU Healthcare Illinois President Greg Kelley released this statement on today's election results in Chicago:
SEIU Healthcare Illinois members are excited that Toni Preckwinkle made a strong showing in today's Mayoral election and secured a spot in the upcoming runoff. Our members join other working families across the city in celebrating this initial victory, and the opportunity it represents for a Mayor who will bring both a commitment to truly progressive politics and years of trusted experience to City Hall.
For too long, working Chicagoans have endured mayors who have placed the interests of big business ahead of those of our families and our communities. With Toni advancing to the runoff election, we have a real chance at a Mayor who will fight for a fast track to a $15 minimum wage, for real and meaningful criminal justice reform, and for meaningful investment in all of Chicago's communities, especially those that have been habitually overlooked and underfunded.
The alternative, Lori Lightfoot, would mean putting the needs of Chicago's long neglected neighborhoods at risk due to inexperienced leadership. There's just too much at stake for the city's working families to trust its highest office to an unproven leader. Chicago needs a mayor who has a track record getting things done for working families in a high-level executive office—and in this race, that's Toni Preckwinkle.
Our members are energized by Toni's victory today—and we're ready to knock on more doors, make countless more phone calls and lift up our voices to take her the rest of the way to the Mayor's office. Toni is the trusted leader that Chicago needs.
###