Child Care Providers Celebrate House Passage of $15 Minimum Wage
Today marks a tremendous victory for working families in Illinois.
With the Illinois House voting to approve SB 1, we are set to become the first Midwestern state to approve a $15 minimum wage!
The Fight for $15 launched in 2012 in Chicago and SEIU Healthcare Illinois child care members have helped lead the way in getting us to this point.
As child care providers, we know how many working parents struggle to put food on the table and make rent each month. We've watched parents take on 2 and 3 jobs to try and scrape by.
The current minimum wage of $8.25 has been in place since 2010, but the cost of gas, housing, groceries, child care, and utilities have climbed each year. Just over 40% – or 2.3 million Illinois workers – earn less than $15 per hour right now so this bill will boost wages for millions across the state.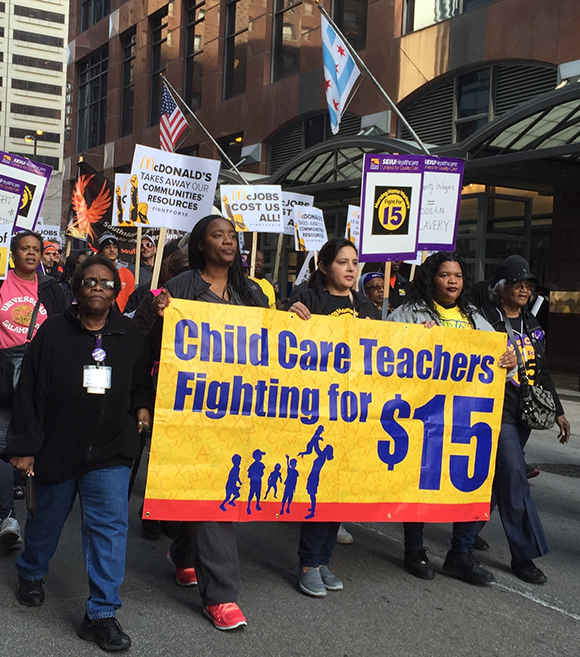 This victory will support working parents, but it is also a critical step forward for child care providers.
As family child care providers working through the Child Care Assistance Program gear up for contract negotiations this Spring, the minimum wage increase gives us leverage to bargain for higher rates and for expanded CCAP income eligibility to ensure that parents who benefit from the increase don't lose their child care assistance.
Child care centers have struggled to recruit and retain the quality staff we need and this increase will boost wages so more early child care educators can join or remain in the industry. We know these need to be good paying jobs and now we can fight for the funding needed to pay better wages with this mandate.
Click here to join our facebook group to keep up with the latest news on our campaigns.
Also, save the date for our upcoming Telephone Town Hall conversation on Thursday, February 28 – we'll be in touch with more details on that soon.
I'm so excited to get to work on negotiating a new contract for family child care providers, and for launching campaigns to win the funding needed to boost wages in child care centers. This minimum wage victory is testament to what we can accomplish when we stick together in our union and take action for our common goals.
When we fight, we win!
In solidarity,
Pam Franks
Child Care Provider & SEIU HCIIMK Executive Board Member