UPDATED with Video: Press Release: SEIU to Advocate Aurora Health: Hospital Workers Can't Wait Years for a Living Wage
Advocate Has the Money to Pay Hospital Workers $15 an Hour Starting Now as It Boasts Being the 10th Largest Not-For-Profit Health System in the Country with Billions in Revenues
Hospital Workers Respond to Advocate's $15 an Hour Wage Announcement: "We Need $15 NOW!"

________________________________
For Immediate Release
CONTACT:   james.muhammad@seiuhcil.org
(November 30th 2018, Chicago) – In a public relations effort to put a pretty face on decades of paying poverty wages, Advocate Aurora Health announced it would raise the starting wage for its workforce to $15 an hour by 2021. The massive Advocate Health system comprises a network of 27 hospitals and 500 outpatient clinics in Illinois and Wisconsin. News outlets reported that Advocate Health's decision to raise wages would affect 10,000 to 15,000 poverty-wage hospital workers.
In response, SEIU Healthcare Illinois Indiana President Greg Kelley issued the following statement:
"Frontline hospital service workers see yesterday's announcement by Advocate Aurora Health — that it will raise its minimum wage to $15 by 2021 — for what it is: An attempt to put a pretty face in the holiday season on decades of paying poverty wages to workers who provide vital hospital services. In fact, Advocate doesn't have a choice but to raise wages. They are doing it unwillingly and slowly because they have to — in part because we forced them to.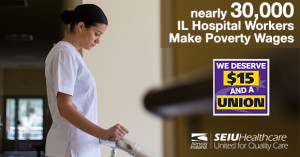 "Advocate and the Illinois Hospital Association are simply recognizing where the political winds are blowing and that the demands of workers are for $15 and a Union. These results are coming to fruition because union members and hospital workers across the country took to the streets to raise the issues of $15, a Union and dignity and respect on the job.
"There is absolutely no reason why Advocate Aurora Health can't pay its service workforce a starting wage of $15 an hour starting today. Advocate takes in billions of dollars every year in revenues and boasts it is the 10th largest non-profit health system in the country, yet they remain one of the region's largest poverty-wage employers.
"Hospital service workers are the backbone of the healthcare system which allow hospitals to earn billions of dollars in profits, yet these workers receive none of the benefits. Workers who clean and sterilize rooms, prepare and serve food, transport and care for patients, and who do maintenance should not have to struggle to get by every month and often have to choose whether to pay rent or buy groceries or afford necessities for their children. Far too many hospital workers can't even afford their own health insurance because it's too high.
"Advocate Aurora Health should use this holiday season, when hospital workers are looking forward to enjoying their families and giving their children gifts, to announce that they are immediately raising their minimum wage to $15 and recognizing their right to form a union. Workers who make poverty wages, especially those outside Chicago and Cook County, simply can't wait any longer for a better wage to care for and support their families. They should lead in this effort, not be dragged along and then try to take credit for it. Advocate should put substance behind the PR."
##