Child Care Providers File Class-Action Lawsuit in Response to Rauner's Denial of Modest Rate Increase
Plaintiffs Joined by State Senator Toi Hutchinson at Press Conference Announcing Filing of Complaint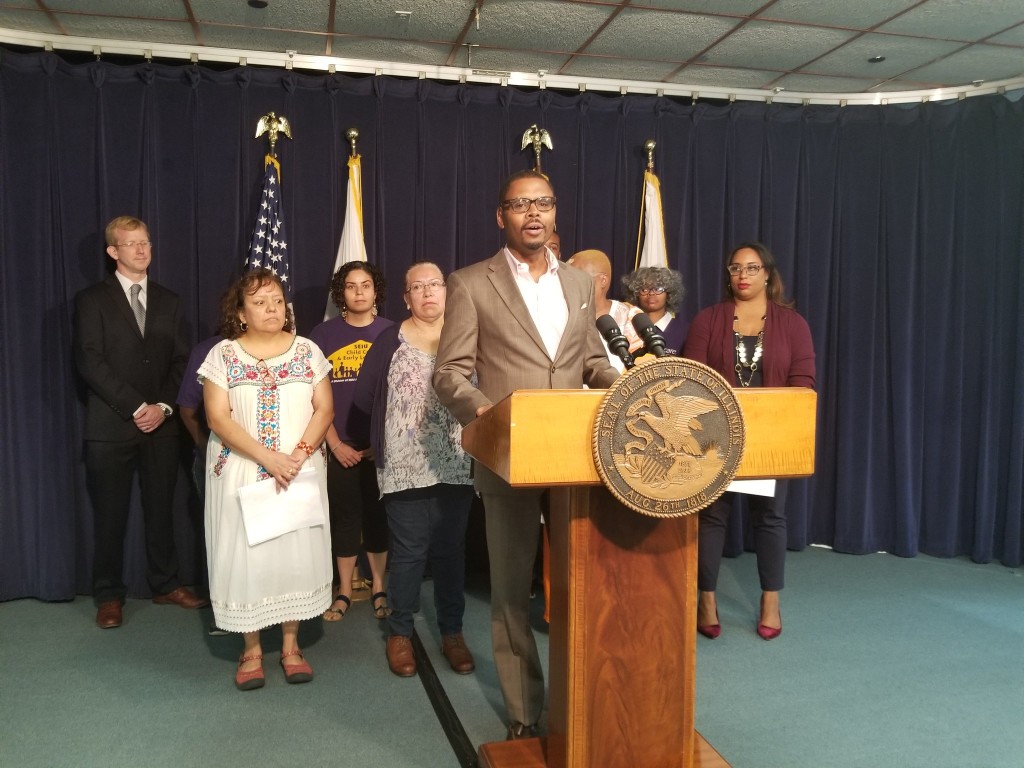 CHICAGO–Child care providers were joined by State Senator Toi Hutchinson this morning at a press conference announcing their filing of a class-action lawsuit which seeks to compel the Rauner administration to comply with a 4.26% rate increase for low-income child care workers. The rate increase was approved by lawmakers and mandated by Illinois Public Act 100-0587. Plaintiffs in the suit, filed early this morning, include child care providers who have been denied the rate increase which was to be put in effect by July 4, 2018.
"I'm here today because Governor Bruce Rauner has refused to give us the 4.26% rate increase that we just won in the state budget," announced Annie Wilder, a child care provider of 14 years who is a named plaintiff in the suit. "And after four years without a raise, we deserve that and more."
Like most providers in the state's Child Care Assistance Program, Wilder's take-home pay is substantially below the state's minimum wage. "Broken down hourly, it equals $3.38 an hour," she said.
The Child Care Assistance Program provides low-income parents in Illinois with a crucial work support—access to affordable and accessible child care which enables them to work or earn a degree in order to better support their families.
Speakers at this morning's press conference highlighted how the Governor's denial of the mandated rate increase is just the latest in a series of attacks he has leveled at the state program.
"In 2015, Governor Rauner forced 40,000 children and 10,000 providers out of the Child Care Assistance Program," said State Senator Toi Hutchinson, who has served as a staunch advocate for accessible child care in Springfield. "He's been making cuts and attacking the program from all sides. And every time he attacks, I've been right there with child care providers defending the program and the thousands of people it impacts. We will not be silenced. We will not go away."
Other speakers echoed that sentiment. "We are not asking, we are demanding," said plaintiff Maricarmen Macias. "We have marched, we have rallied, and today we are filing a lawsuit. We will do whatever it takes to protect child care from Rauner's attacks."
###