Democratic Governor Candidates Answer Questions From HCII Members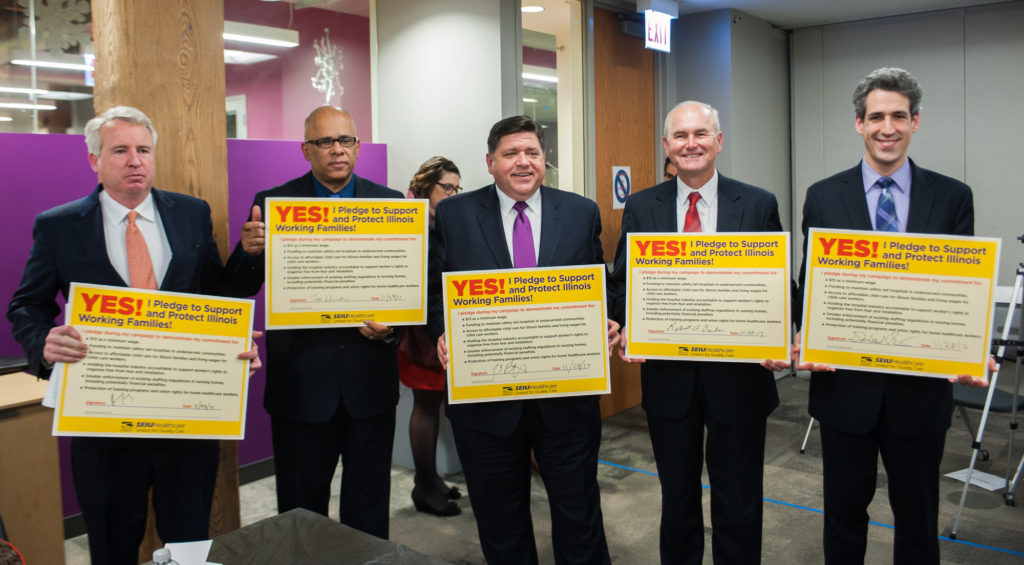 Five potential Democratic nominees for Illinois governor came to our headquarters on Chicago's South Side to answer questions and talk about their vision for Illinois future as it relates to our members in November.
JB Pritzker, Chris Kennedy, Tio Hardiman, Bob Daiber, and State Senator Daniel Biss heard stories from our members and answered questions for our Executive Board for two hours, giving their stances on everything from how they would work to ensure living wages for workers to quality care at nursing homes to protecting union rights, immigrant rights, health care, and more.
"There is a big crisis in child care," Maricarmen Macias, a home child care provider, told the candidates. "Parents cannot afford to pay for child care while 20,000 providers are paid very low rates. Every single dollar I make goes to my children. Many providers cannot get buy because their wages are so low."
Home child care provider Maricarmen Macias: "There is a crisis in child care right now." #hciigov #childcareforall pic.twitter.com/H5O6JdWsxw

— SEIU HCIIMK (@SEIUhciimk) November 29, 2017

The candidates agreed that they support both higher wages for child care providers, along with universal child care. "I believe this is essential for the future of our state," said Pritzker. "For working class people who can't afford child care, that's where universal child care is so important," said Daiber. "To allow working class people to be able to go to work and know their children have proper care and that providers are being paid a wage for which they're providing quality care."
Forestine Pressey, a nursing home worker with 46 years experience who works on Chicago's South Side, talked to the candidates about safe staffing. She said sometimes she is left to care for 32 high-needs patients all by herself. "Everyday I witness residents who live in at risk of short staffing, and everyday nursing home workers like me and my coworkers are trying to do the job of 2 and 3 people," Pressey told the candidates.
"We need real teeth, real penalties, real fines," said Daniel Biss, who introduced legislation alongside SEIU Healthcare this past session to help alleviate some of the staffing issues nursing home workers face. "We know that the question of what we're going to do to improve the quality of life for nursing home workers and what we're going to do to improve the quality of life for residents are the same question. That's what staffing ratios are about, it's about life and death for the residents. We don't care if there's a law on the books since 2010 that says staffing ratios have to be reasonable if there's no teeth and it's being ignored."
JB Pritzker told home care worker Atlantis Muhammad that he would reverse Rauner's overtime caps for home care work. He said there should be no caps what-so- ever. He also told Pressey that when nursing home operators violate staffing laws. "We should hit them where it hurts [the pocketbook]," Pritzker said. Pritzker recalled his time on the picket line with SEIU nursing home workers back in April during our practice strike.
.@JBPritzker says we need to reverse caps on overtime for home care #nocaps #hciigov pic.twitter.com/w4Cc1iMy6H
— SEIU HCIIMK (@SEIUhciimk) November 29, 2017

Wellington Thomas, an emergency technician at Loretto Hospital located in the Austin community on Chicago's West Side, asked candidates what they would do to support and lift up safety net hospitals, particularly in economically disadvantaged communities.
"The truth is the leadership of this city and this state don't want to protect safety net hospitals," said Kennedy. "You look at what the governor did right before Thanksgiving – totally screwed safety net hospitals. He robbed them of access to insurance programs they built themselves that were tailored to clients they take care of. It's not accidental, and it doesn't have to be like that. We can fix the funding for safety net hospitals, we just have to want to."
Bob Daiber told Wellington that safety net hospitals were vital for both rural counties down by where he lives as well as urban communities up in Chicago. Diaber also brought up the threat of "right-to- work." He's seen Missouri go "right-to- work" across the river from where he lives. He's said "I won't just say no to right to work in Illinois, I'll say hell no!"
Candidates were asked about reinstituting the state's wage board and using it as vehicle to raise wages. All candidates said they would. All candidates pledged to support a minimum wage of at least $15 an hour.
.@danielbiss talks about how our hospitals are making huge profits while paying poverty wages to their workers and what he'll do about it #hciigov #twill pic.twitter.com/zgfDWWtDpa

— SEIU HCIIMK (@SEIUhciimk) November 29, 2017

Genoveva Ramírez – a member from our sister local, SEIU Local 1 – told her story about being the victim of a crime and how reporting that to law enforcement almost caused her to be deported. She asked if candidates would support SB 32, which protect immigrants who are victims of crimes or witness them can be protected from deportation.
.@KennedyforIL says "immigrants are America" as he pledges support SB32 #hciigov #twill #heretostay pic.twitter.com/YpwaFY6a2P
— SEIU HCIIMK (@SEIUhciimk) November 29, 2017

All five candidates agreed to support a progressive income tax, but also said they were aware the state is in dire need of new sources of revenue. Hardiman told members that he supported both a financial transaction tax and decriminalizing and taxing marijuana. "I support the financial transaction tax, which is one avenue that could bring in $3 billion of revenue in Illinois," he said, adding that the revenue could be used to shore up funding for programs for senior citizens and universal child care.
All five candidates also signed a pledge to protect working families. The pledge reads that candidates will demonstrate their commitments for:
$15 as a minimum wage.
Funding to maintain safety net hospitals in underserved communities.
Access to affordable child care for Illinois families and living wages for child care workers.
Holding the hospital industry accountable to support worker's rights to organize free from fear and retaliation.
Greater enforcement of existing staffing regulations in nursing homes, including potential financial penalties.
Protection of training programs and union rights for home healthcare workers.
And that's a wrap on the #hciigov forum. Thanks @danielbiss @HardimanforIL @BobDaiber @KennedyforIL@JBPritzker for signing the pledge to support & protest working families! #twill #ilgov pic.twitter.com/2BWppBD0O3

— SEIU HCIIMK (@SEIUhciimk) November 29, 2017