IL Nursing Home Workers Ratify Historic Three-Year Contract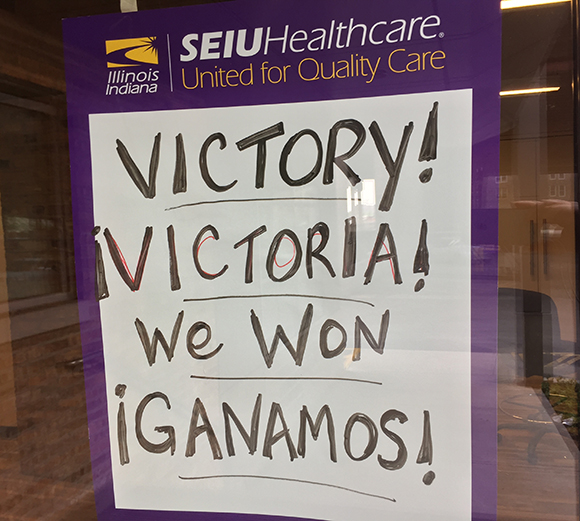 97% of Workers Voted in favor of contract that increases wages, provides safer staffing levels
Agreement comes as 5,000 caregivers were prepared to wage largest nursing home strike in U.S. history
CHICAGO –  Nursing home workers represented by SEIU Healthcare Illinois voted by 97 percent to ratify the terms of a three-year contract with the 103 nursing homes represented by Illinois Association of Health Care Facilities.
The new contract reflects significant improvements for workers, including:
Significant wage increases, with an average increase of 27% over three years. The lowest-wage workers are receiving a 30 to 50 percent increase, with many going from $8.70 to $13.10 over the three-year contract period. This means nursing home workers will be able to provide for their families while taking care of residents.
Greater accountability for safe staffing standards in order to provide quality of care for residents.
40% increase in employer pension contribution
Expansion of workers' rights and on-the-job protections.
"Nursing home workers give our hearts and time to peoples' loved ones every day – feeding them, bathing them, and keeping them company," said Kenya Baker, a certified nursing assistant at All American Nursing Home.  "We make sure residents live with dignity when their families put them in our care. For too long, our wages and working conditions didn't reflect the value of our work and a lot of us struggled to stay in our homes and keep our own families fed.  This contract brings much needed peace of mind to us and resident care will improve because of it."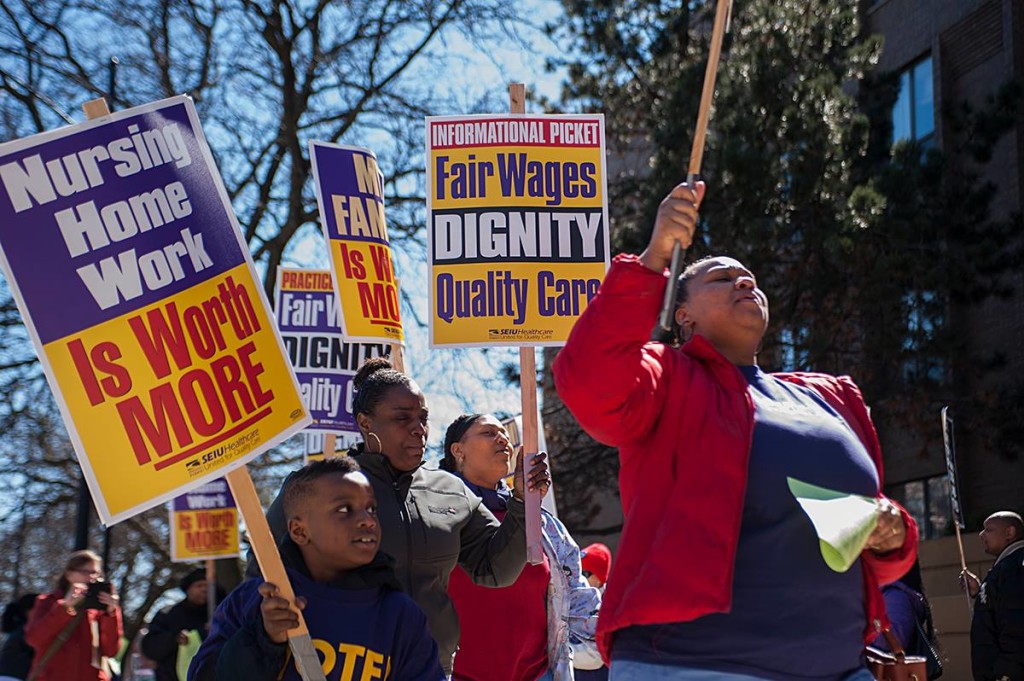 SEIU Healthcare placed a priority on lifting up the wages of the lowest paid nursing home workers covered by the contract—many of whom had gone without a raise for three years—and establishing an equitable pay structure among different nursing homes. The nursing home owners had asked for the right to pay workers below the minimum wage in the future and had made a practice of offering new hires higher wages than existing employees in the same job title when they had difficulty recruiting new staff.
"This victory has been transformative for the workers," said Greg Kelley, president of SEIU Healthcare Illinois. "They came together and united across race, ethnicity and geography, and through that solidarity, they won".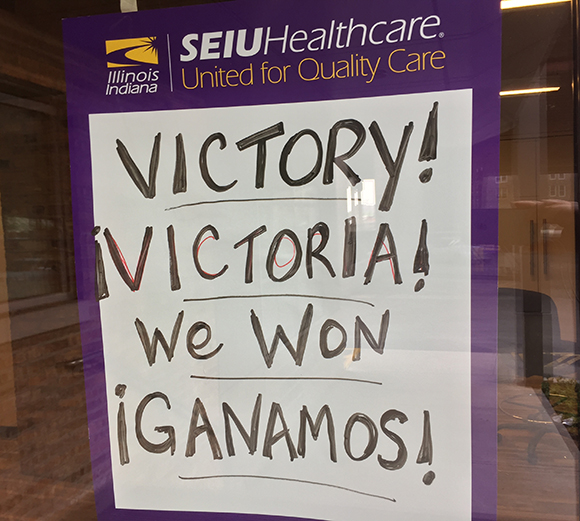 The contract comes as the nation finds itself in the middle of a crisis of care. More than 10,000 baby boomers are turning 65 every day, and by 2050 the number of people over 85 is expected to triple. But even as the need for experienced caregivers spikes to unprecedented levels, vacancies in nursing home positions have increased and staff turnover for nursing assistants exceeds 50 percent per year.
"Nursing home workers perform vital services while driving a billion-dollar industry that is rapidly growing along with our aging population," said Kelley. "We must invest in making nursing home jobs good jobs and ensuring everyone has access to quality long-term care."
The contract is retroactive to May 1, 2017 and runs through April 30, 2020.

###