SEIU Healthcare Illinois Issues Statement on House Votes: Intense Public Pressure Forces Gov. Rauner to Cease Attacks on Illinois' Child Care and Home Healthcare Programs
FOR IMMEDIATE RELEASE: November 10th, 2015

Now that Gov. Rauner Says He Supports Vital Services, He Must Figure Out How to Pay For it By Asking the Super Wealthy and Big Banks to Pay Fair Share in Taxes
SPRINGFIELD– Today the Illinois House of Representatives voted on critical pieces of legislation that affect working families, such as SB 570, to stop Gov. Bruce Rauner's attacks on Illinois' Child Care Assistance Program (CCAP) which have denied care to some 70,000 children.
The House also took up and voted on HB 2482, a bill to protect over 34,000 seniors and people with disabilities from Rauner's attempt to limit the choices that consumers have between home healthcare and nursing home services by raising the DON (Determination of Need) score, which determines eligibility.
In response, Keith Kelleher, President of SEIU Healthcare Illinois issued the following statement:
"Governor Bruce Rauner swiftly and dramatically changed course to halt his attacks on Illinois' child care and home care programs.  We give credit to our incredible child care providers, the parents whom they serve, as well as to our home healthcare workers and the seniors and adults with disabilities whom they support and empower every day. We are also proud to stand with our community partners and allies in protecting vital services.
"The fact that Illinois' Child Care Assistance Program and Community Care Program will continue is a testament to their perseverance in fighting back against Gov. Rauner's extreme agenda.
"However, working families are still vulnerable to Gov. Rauner's abuse of his emergency powers to unilaterally implement rule changes to vital services, which is why we fought so hard for these two bills.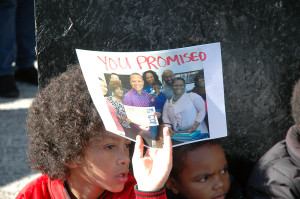 "Let's be crystal clear: Nobody bears more responsibility today for the defeat of these two pieces of legislation to protect child care and home healthcare in Illinois than State Representative Ken Dunkin.
"Going forward, Gov. Bruce Rauner said he will preserve the state's child care and home healthcare programs. But now he must come up with new revenue solutions to actually pay for these vital services. That means asking the super rich, like himself and large banks, to finally pay their fair share in taxes to fund vital programs and not shift the burden onto working families or trying to slash Illinois' child care and home healthcare programs.
"This will require Gov. Rauner to come back to the table to forge a responsible budget, working with the legislature in good faith, and stopping his destructive 'turnaround agenda' which is hurting working families."
–END–