Press Release SEIU Healthcare Illinois: Largest State Bargaining Units Continue to Work Without Contract as Rauner Presses Extreme Demands
FOR IMMEDIATE RELEASE: Wednesday, November 18, 2015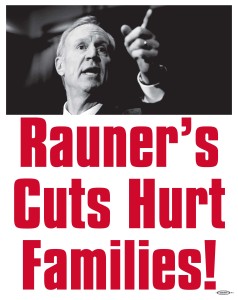 Contact: Graeme.Zielinski@seiuhcil.org
CHICAGO – Following is the statement of SEIU Healthcare Illinois President Keith Kelleher in response to the breaking news that the Bruce Rauner administration had reached a contract deal with a unit of SEIU Local 1:
"While we are happy for our sisters and brothers at SEIU Local 1, the fact remains that the state's largest bargaining units, the 52,000 low-income Illinois home healthcare and child care workers of SEIU Healthcare Illinois, continue to work without a contract while Bruce Rauner presses extreme demands that would totally destabilize this workforce.
"Our contracts expired June 30th. At the bargaining table, Gov. Rauner has sought to strip the lowest-paid workforce in the state of health insurance and training, along with other demands meant to diminish if not outright eliminate the workplace voice of these vital workers. He also is demanding a wage freeze for workers earning poverty-level wages. Already, he has stopped payments to the healthcare funds for our workers, raising immediate threats of misery and economic hardship on a large scale.
"For some reason, Rauner appears to be willing to single out SEIU Healthcare for demands harsher than the other units of government with whom he has reached a deal and ALL OF WHICH were able to keep their bargained-for health insurance—and their union voice.
"Rauner recently attacked our workforce through administrative rules meant to diminish the size of the home healthcare and child care workforces. And he bankrolls anti-union groups that are shamefully attacking our workers in the courts and in the media. His ongoing attacks at the bargaining table are part of his greater hostility against collective bargaining in general and his billionaire agenda to permanently weaken the union movement."
###