Governor Rauner tries to buy support for service cuts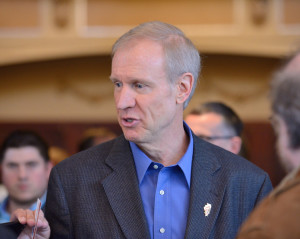 Governor Bruce Rauner has shown  he's willing to blame state Democrats for deep service cuts. In fact, this devastating plan is all his. This includes huge cuts to child care and home care and cuts to Medicaid that could shutter community hospitals serving low-income populations.
And while he wants to slash the budget at the Department of Human Services (among others), he still found a quarter of a million dollars from that department's budget to pay his education czar more than twice the salary of her predecessor.
Now, in a Think Progress article detailing Rauner's use of his wealth to solidify his political power, more light has been shed on the fact that he doled out $400,000 in contributions, cutting checks to every Republican in the General Assembly, "just weeks before a crucial May 31 budget deadline." Rauner's generosity also has been reported by Capitol Fax.
Interesting timing.
Are you "pro" this quid?