SEIU Healthcare Illinois Says State Lawmakers "Failed to Lead" In Refusing to Pass Fair Tax Act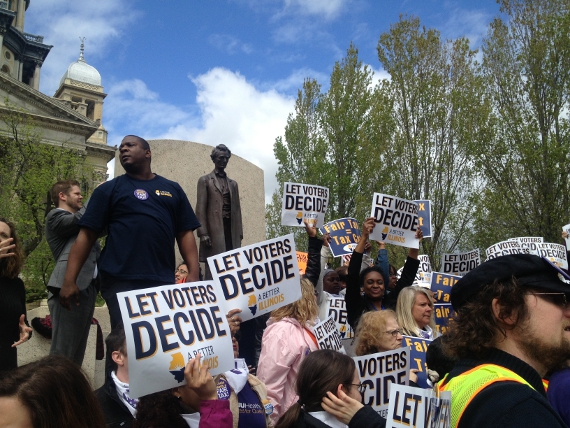 Working Families Speak Out Against Legislators' Choice to Maintain a Broken Tax System that Benefits the Rich and Large Corporations Instead of Rebuilding Illinois' Communities
FOR IMMEDIATE RELEASE
Contact: Scott Vogel, scott.vogel@seiuhcil.org
(April 29, 2014, Chicago) – SEIU Healthcare Illinois is extremely disappointed that the Senate and House refused to put the Fair Tax Act up for a vote this session, but remains absolutely committed to continuing the fight for tax fairness.
The Fair Tax Act would have allowed the citizens of Illinois to amend the state Constitution on the November ballot to create a more fair and equitable tax system. The fair tax proposal embodied the common sense value that lower tax rates should apply to low-income and working families and higher tax rates should apply for higher incomes. Right now, the Illinois state Constitution mandates that state income taxes be "flat." That means that a home care worker making only $15,000 per year pays the same tax rate as a CEO making $1.5 million – a stark example of why Illinois' broken income tax system needs urgent and sensible reform.
Senator Don Harmon, the sponsor JRCA 40 (Senate Joint Resolution Constitutional Amendment) emphasized that
the Fair Tax Act and accompanying tax rate structure would give 94% of Illinois residents a tax cut in order to support working families and small businesses.
In response, Keith Kelleher, President of SEIU Healthcare Illinois, issued the following statement:
"Working families in Illinois need and deserve tax fairness, and the state legislature's failure to put the Fair Tax Act up for a vote this session comes as a disappointment. The fight for tax fairness, however, continues.
"We need an economy and a fair tax system that works for everyone, not just for the wealthy few. That's why it is absolutely essential that our state lawmakers require that the rich and large corporations pay their fair share of the tax burden so that the state can invest in our communities again and protect vital programs that support working families, children and seniors.
"We are extremely grateful for the hard work and persistence of the chief legislative sponsors, Senator Don Harmon and Representative Christian Mitchell, who carried this issue and our message across the entire state. Both of these lawmakers, as well as their colleagues who committed their support for the fair tax, deserve credit for their leadership in making sure that Illinois gets our priorities straight and puts our state on sound fiscal footing.
"Though delayed, the Fair Tax Act will prove a crucial step forward for working families, including the thousands of HCII members, who worked hard to gather petitions, knock on doors, phone bank and hold actions and rallies to make the fair tax a reality.
"Ultimately, we need a fair economy that gives everyone real opportunity and creates shared prosperity throughout Illinois. Our work and advocacy on behalf of working families continues."
###