A Historic Milestone for Chicago's Home Care Workers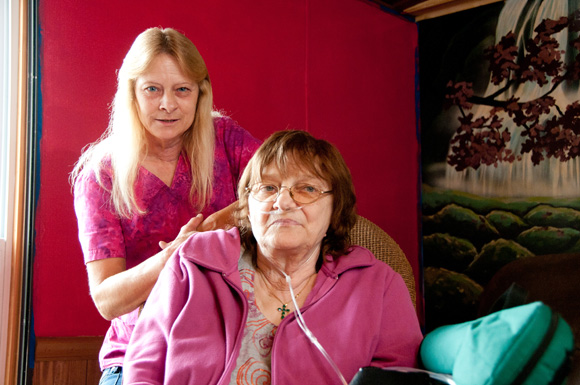 A campaign that catapulted home care workers out of the depths of poverty and reinvented the American labor movement marked its 30th anniversary next week in the city where it began.
In 1983, a small, intrepid group of mostly African American women making as little as $1 an hour to provide care for seniors and people with disabilities, formed a union in Chicago, one of the first of its kind nationally.
They aimed to improve poverty-plagued working conditions in an industry that was regarded then as little more than babysitting. Three decades later, home care is one the fastest-growing professions in the country, as well as one of the few expanding sectors of the country's labor movement – a sea-change that historians have traced to the watershed unionization effort in Chicago.
On Saturday, September 7th, union leaders, home care workers and advocates for those who depend on this vital service convened in Chicago for a commemoration of this labor landmark.
The anniversary event featured panel discussions with historians, union leaders and advocates for seniors and people with disabilities.
"Thirty years ago, no one thought home care workers could be organized into a union, and even worse, no major labor organizations were even attempting to do it," said Keith Kelleher, President of SEIU HCIIMK and the organizer who launched and directed the Chicago campaign. "But home care workers exemplified the reason we have unions in the first place. They were performing valuable public services for seniors and people with disabilities – and yet legally they were treated as second-class citizens and floundering in poverty."
Home care encompasses a range of services – including food preparation, personal hygiene and medical assistance – that helps people who are aging or disabled live independently. Yet it remains exempted from the Fair Labor Standards Act, the nation's core legal protection for workers. In 1983, home care workers in Illinois were paid the $3.35 minimum wage for some services – and only $1 an hour for others.
"Our primary job responsibility is to help seniors and people with disabilities live their lives independently, and yet we weren't making enough money to survive ourselves – not even the minimum wage in some case," said SEIU Chairperson Flora Johnson, a home care provider in Chicago. "We realized that the only way we could change these conditions is to unite together and demand dignity and respect from our lawmakers and our employers.
Applying techniques that were common to community organizing, but unconventional within the labor arena, the movement, known then as Local 880 of the United Labor Unions, formed alliances with advocates for seniors and people with disabilities.
Workers marched on the state legislature, staged sit-ins at the offices of lawmakers, engaged in civil disobedience and organized private work sites. Through these efforts, and the gains won in collective bargaining agreements, the wages for Illinois home care workers have more than tripled in the last three decades, from $1/hour to $13/hour in 2014. Along the way, home care workers have also secured health insurance and funding for professional training.
These dramatic improvements in job conditions have reduced chronic turnover in the profession, promoting stability for consumers and reaping hefty savings for Illinois' debt-plagued budget. According to figures supplied by the state, the average cost of home care is one-third of Illinois' average expenditure on institutional care.
"By organizing home care workers, we have helped bolster the state's economy on two fronts: tens of thousands of workers have ascended out of dire poverty, and the state is spending less money on nursing home care," Kelleher said.
But the legacy of the Chicago campaign has reverberated beyond Illinois. The organizing model used in Chicago became the catalyst to unionize home care workers, and later independent child care providers, across the country. Today, one in every three members of the SEIU – the country's fastest-growing union – is a home care or child care worker.