Workers at MetroSouth Medical Center in Blue Island vote to unionize, marking a breakthrough into Chicago CHS-affiliated hospitals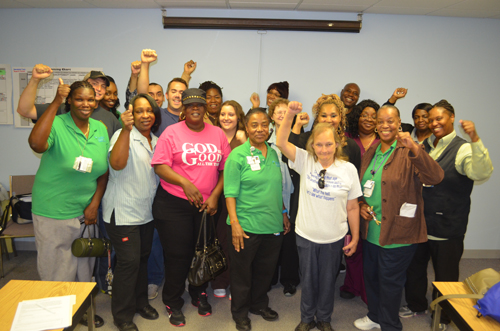 In August, a strong majority of service and maintenance workers at MetroSouth Medical Center in Blue Island, IL voted to unionize with SEIU HCII. The newest SEIU-organized hospital in the Chicago region unites over 250 employees on nursing floors, as well as ancillary staff in housekeeping, dietary, and other departments for a stronger voice in patient care decisions and greater economic security for their families.
"I've been at MetroSouth for 14 years and finally we will have a voice over issues that are critical to the work we do, like staffing and workload," said Ramona Gentry, a Patient Care Partner. "I support my family with this job, and now we can negotiate wage increases that my family and I can count on too."
MetroSouth Medical Center is owned and operated by Community Health Systems (CHS), one of the largest for profit healthcare systems in the country. The company owns, operates, or leases 135 hospitals in 29 states, including eight in Illinois.
"I am very excited to work as a team with management moving forward to address top issues for staff and patients, find positive solutions at the bargaining table, and ultimately make our hospital even better than before," said Vernon Brooks, an Environmental Service Tech Lead who's been at MetroSouth for 3½ years.
This election marks the first SEIU Healthcare victory of CHS hospital workers in the state. They join the 4,200 other CHS-affiliated workers in California, Ohio, Oregon, Pennsylvania, and Washington who are already united in SEIU Healthcare. Members at Metro South have elected their representatives for the bargaining committee and are working together to win their first contract.