On Tax Day, Seniors and Home Care Workers Protest Sears for Abusing Corporate Tax Loopholes
Seniors Ask: "Where is Our Lifetime Warranty to Living Independently?"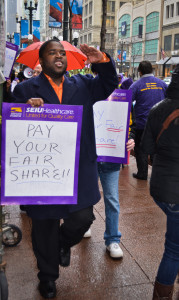 (April 15, 2013, Chicago) — Seniors, community advocates and home care workers held a Tax Day protest outside a Sears store in downtown Chicago to call on the corporation to pay its fair share in taxes.  Seniors said it was important for large corporations to stop using — and abusing — tax loopholes and instead should be paying their fair share in taxes to fund vital home care services that keep seniors living independently.
Seniors and community allies delivered a tax bill to the store's business office and asked for their own "lifetime warranty to living in their own homes."
On March 15th, the Department on Aging released a letter to notify all home care agencies and providers that the Community Care Program (CCP) completely ran out of money. The state program funds home care for 85,000 seniors and allows them to live in their own homes instead of being forced into costly nursing home facilities. In addition to protecting the dignity, privacy and security of seniors, home care assistance also saves the state hundreds of millions by avoiding costly institutional care.
The Illinois Association of Community Care Program Homecare Providers (IACCPHP) says that without emergency funding the state's home care system could collapse. The Association says that more than a third of its members have only 30 days to survive if the state's funding is not restored immediately.
Seniors, community advocates and home care workers are pushing state lawmakers to pass emergency funding to save the home care program immediately. The Community Care Program faces a total shortfall of $313 million; $173 million in previous liability from FY12, and $140 million operating deficit in FY13.