Workers rally for a 'living wage'; tell wealthy owners to invest in workers and residents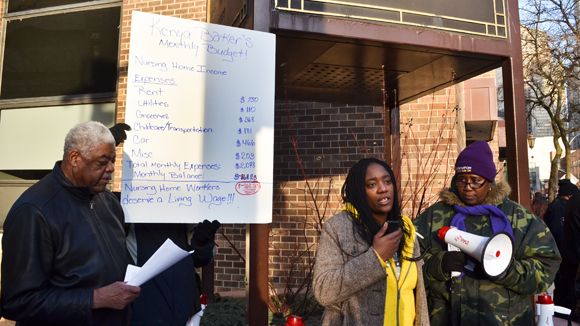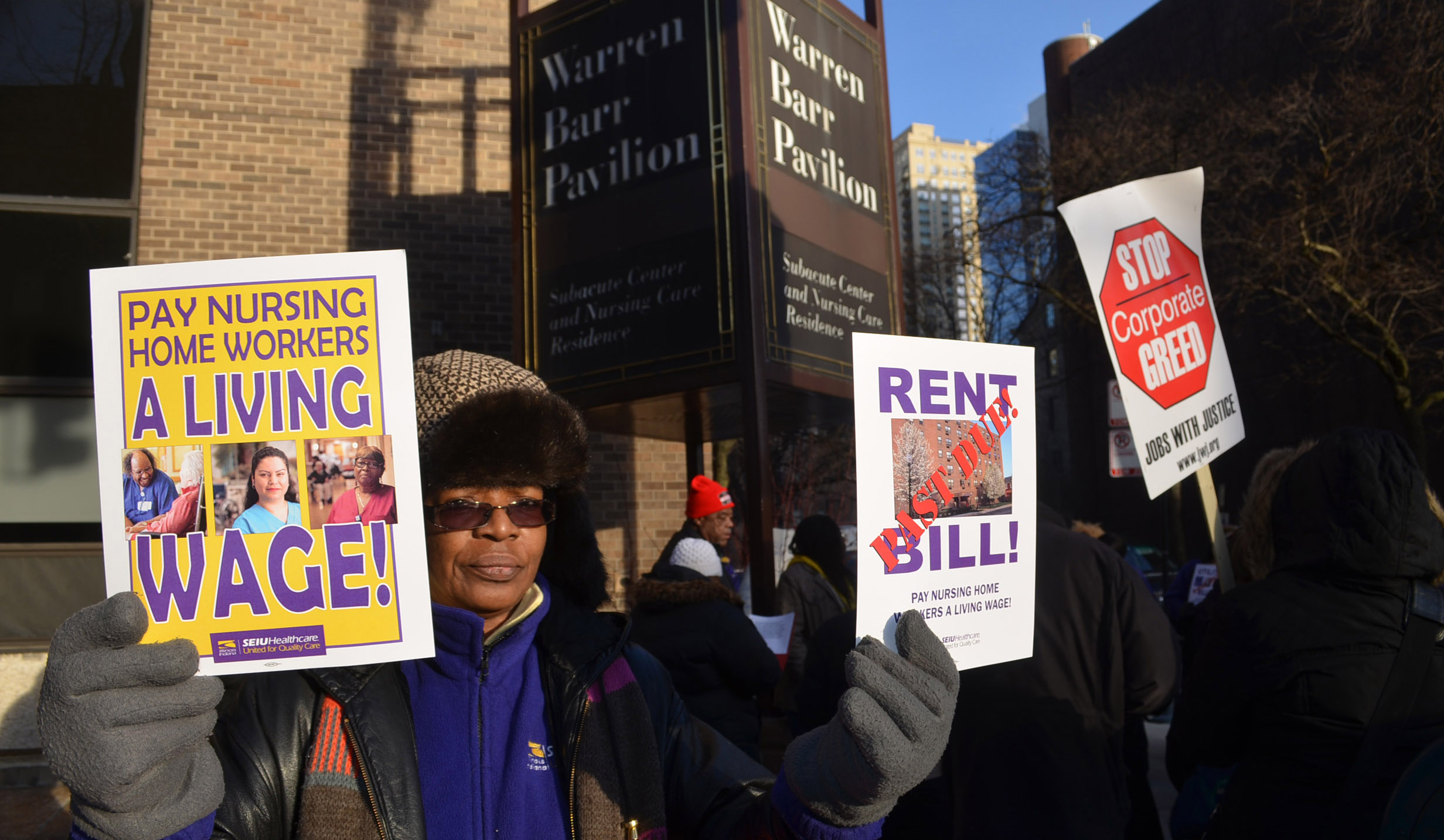 CHICAGO–Dozens of low wage nursing home workers and supporters rallied outside Warren Barr nursing home on Chicago's Gold Coast Feb. 20 demanding better pay and working conditions.
Waving signs and chanting "good jobs now", protesters called on nursing home owners to invest their wealth in workers and nursing home residents.
"When I started in this work three decades ago, I made $2.90 cents an hour. Thirty one years later I barely make over $10 an hour," said Tanya Rizer, a certified nursing assistant. "Nursing home workers have toiled far too long on jobs in an industry that continually ranks as one of the most stressful and dangerous in the country. Where is the money that we generate for these nursing homes going other than into the owners' pockets?"
Tanya said nursing home owners belonging to the Illinois Association of Health Care Facilities (IAHCF) generate more than $1 billionin revenues annually. Yet, they spend only 15 percent of their revenue in wages for workers.
The starting wage for a worker is barely more than $9 an hour, Tanya pointed out.
"There's no way they can pay us what we're worth, but they can help to improve the quality of our lives just as we seek to improve the quality of our nursing home residents' lives every day. We do back-breaking work but receive spirit-breaking wages," she said.
Kenya Baker, a certified nursing assistant, showed a large poster board detailing her monthly income and expenses. At the end of the month, she's more than $800 dollars in the hole, she said.
"That means some bills don't get paid. I get 'past due' notices. But I can't sacrifice feeding my kids to pay a bill. We need a living wage to stop this paycheck-to-paycheck cycle," she said.
The nursing home workers were joined by members of the Fight for $15 low wage food and retail workers group who are fighting to receive $15 an hour wages from profitable Gold Coast stores and restaurants.
After marching into the Barr Pavilion nursing home to deliver past due bills of some of the nursing home workers, the group marched to the offices of Grosvenor Capital Management, a hedge fund firm and major donor to Illinois Republican Senator Mark Kirk. Protestors delivered a "stop the cuts" message, stating that automatic sequester cuts supported by Republicans will devastate essential programs for seniors, children and low-income communities.