HEALTHCARE UNION HONORS TEACHERS UNION, COMMUNITY ALLIES FOR DEMONSTRATING THE POWER OF GRASSROOTS UNITY
FOR IMMEDIATE RELEASE:       
September 18, 2012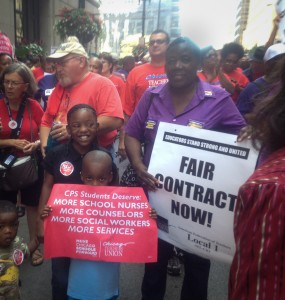 CONTACT:
Mike Truppa
(312) 296-1956
Mike.truppa@seiuhcil.org
CHICAGO – In the wake of the Chicago Teachers Union's announcement suspending its successful strike to protect the city's schools, Keith Kelleher, President of the SEIU Healthcare Illinois and Indiana, issued the following statement: 
The 91,000 members of SEIU Healthcare Illinois and Indiana salute their brothers and sisters in the Chicago Teachers Union for their successful stand in defense of a quality education for all of the city's school children.
At a time when working men and women are constantly embattled by corporate-backed political agendas hostile to collective bargaining, the Chicago teachers' strike represented a resurgence of grassroots power, as educators, parents, children and community leaders united to protect their schools.  They will leave a legacy of inspiration to working families across the country.
As classes resume Wednesday, parents and their children can credit this courageous strike for drawing the line against unfair school closings, overcrowded classes and under-resourced communities.
This fight exemplified why the American labor movement remains a vital voice for better public institutions, stronger communities and good jobs at fair wages.  We look forward to working with the teachers to build on this victory for all working families.