SEIU Healthcare members, thousands more unite to Take Back Chicago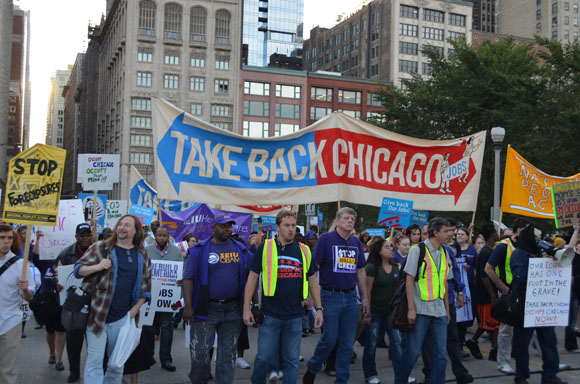 SEIU Healthcare Illinois and Indiana members and thousands of other union members, teachers, students, and community activists swarmed the streets of downtown Chicago on Oct. 11, massing near a meeting of the Mortgage Bankers' Association and the Futures Industry Association to demand that the greedy bankers and traders who broke our economy do their part to put it back together.
Participants dropped banners, chanted, held signs, sang, and even took arrest to send the message that the working people of Chicago are finished paying for the reckless behavior of the people who have who reaped profits while foreclosing on our homes, bankrupting our schools, and failing to create jobs.
"I was willing to take arrest because it's time for a change, and if it takes people going to jail to make that happen then I'll do it. More and more kids don't have good schools, and so many people are losing their jobs and their homes–especially in my neighborhood. I had to make a stand," said Grace Livingston, a nursing home worker in Harvey, IL.
Monday's rally, called Take Back Chicago, was the first of a week of actions to reclaim our jobs, our homes, and our schools. Stay tuned for more coverage, and read more about this movement.