Governor signs bill to bring quality care, quality jobs to Roseland community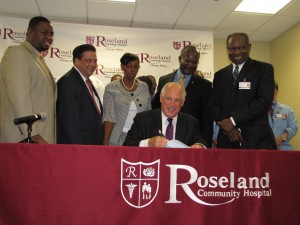 On Friday, August 5, 2011, Governor Pat Quinn arrived at Roseland Community Hospital in Chicago's far south side, to sign House Bill 1888 into law, establishing the Roseland Community Medical District.  The creation of a medical district creates opportunities to expand and improve healthcare facilities in the community.
"We've needed something like this to happen for a long time," says Nicole Creamer, an SEIU member who works at Roseland Community Hospital.  "The Roseland Medical District will bring hospital services and good healthcare jobs to an area that desperately needs both."
Sponsors of the original legislation, Representative Robert Rita and Senator Emil Jones III, and other elected officials also attended this historical event, establishing the second medical district in the city of Chicago, and the fourth in Illinois.