Nursing home workers, residents, families gather to support unjustly fired CNA
On July 14, nursing home workers and community members rallied at the Center Home for the Hispanic Elderly to demand Justice for Doris.
Doris Castilla was unjustly fired after helping lead a successful drive to form a union at Center Home.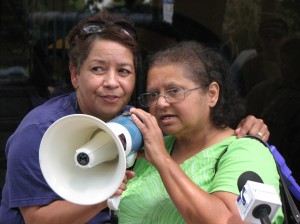 Doris had a large crowd of support, including residents' family members, some with hand-made signs.   "Doris is a good worker," says Anna Camacho, whose brother lives at Center Home.  "She takes care of everybody.  It's not fair that she was fired for this."
Doris, a Certified Nursing Assistant, was a model worker at the Center Home, never receiving any disciplinary action in the 24 years she worked there. As the home became increasingly understaffed, jeopardizing her ability to continue to provide quality care for her residents, Doris took a leadership role in organizing her fellow workers in SEIU Healthcare Illinois & Indiana. Shortly after workers won their union in March, Doris was fired. Center Home management claims Doris was fired for insubordination and property damage, but have yet to put forth any evidence to support their claim.
Jose Rosa, a local pastor, led a prayer at the rally and then Doris addressed the crowd in between chants and cheers of support.  "I have always loved the residents here like my family," said Doris.  "I will still love them and keep fighting for them forever."
SEIU members, community members, residents and their families will continue to take action until Doris gets the justice she deserves.