Member Political Organizers get out the vote in Chicago city elections
More than 1,000 members from SEIU locals and volunteers worked phone banking, door knocking and Election Day poll watching in Chicago elections on Feb. 22nd and April 5th.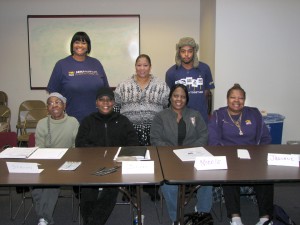 SEIU Healthcare Illinois & Indiana canvassed 15 wards for candidates, with Member Political Organizers (MPOs) doing great work.
"There's a connection to the work we do, the services we provide and the politicians we elect. Working people must elect political leaders who support policies that keep people working and services funded," said nursing home CNA Grace Livingston.
SEIU endorsed winners were Bob Fioretti (2nd), Pat Dowell (3rd), Will Burns (4th), Leslie Hairston (5th), Marty Quinn (13th), Ed Burke (14th), Toni Foulkes (15th), Matthew O'Shea (19th), Sheldon Sherman (21st), Ricardo Muñoz (22nd), Roberto Maldonado (26th), Walter Burnett Jr. (27th), Jason Ervin (28th), Deborah Graham (29th), Ariel Reboyras (30th), Scott Waguespack (32nd), Rey Colon (35th), Tim Cullerton (38th), Mary O'Connor (41st), Brendan Reilly (42nd), John Arena (45th), Joe Moore (49th) and Debra Silverstein (50th).