K.C. hospital workers fight for dignity & respect, quality care in first contract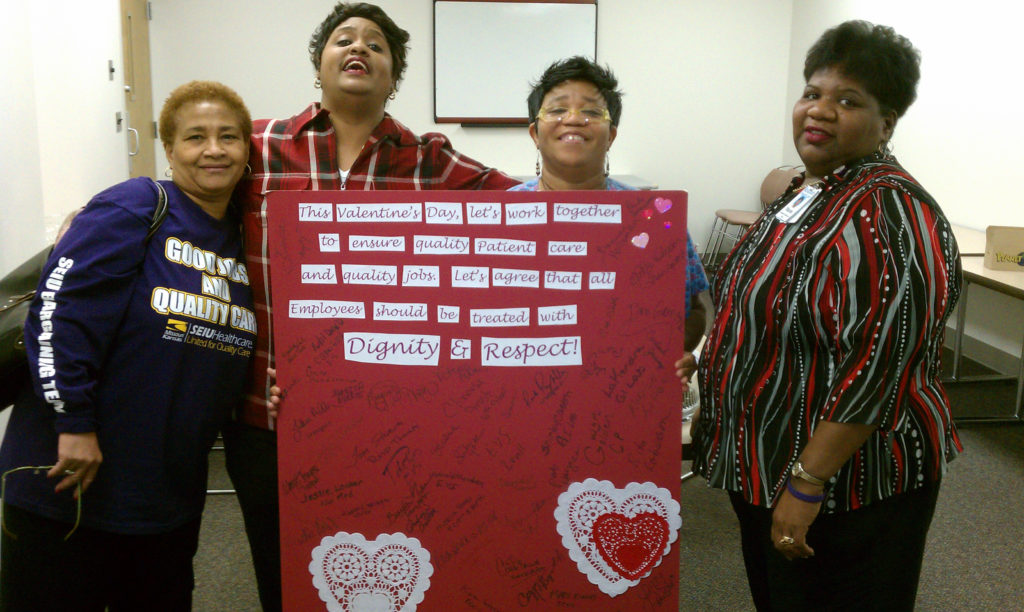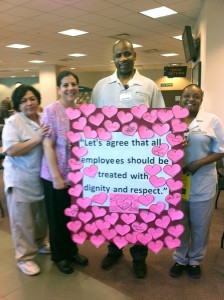 Nearly 1000 hospital workers at Menorah Medical Center and Research Medical Center in Kansas City are negotiating their first contract, united with SEIU Healthcare Illinois & Indiana.
Almost immediately, members in the Environment Services Dept. (EVS) at Research demonstrated how serious and united they are to bargain a fair contract. Members signed petitions demanding that workers be treated with dignity and respect, petitions that management refused to accept. Members stepped up their campaign and presented a huge Valentine's Day card saying all workers must be treated with dignity.
"We won our union by being united, and we're still showing how our unity can help us win," said Dawn Dudley, an EVS employee and member of the Bargaining Committee. "Members overwhelmingly support this legitimate effort to get dignity and respect in our workplace."
The Bargaining Committee has proposed establishing a Committee for Quality Care and Working Environment to make sure our voices are heard on the job and three proposals concerning job security. Workers at both hospitals are telling their stories on short-staffing and how it hurts patient care.
"Having the right amount of staff on shift allows us to give the highest quality care we can," said Menorah Medical Center patient care technician Michelle Clark.