Personal Assistants Take Action Statewide to Demand Pandemic Pay & a Stronger Long Term Care System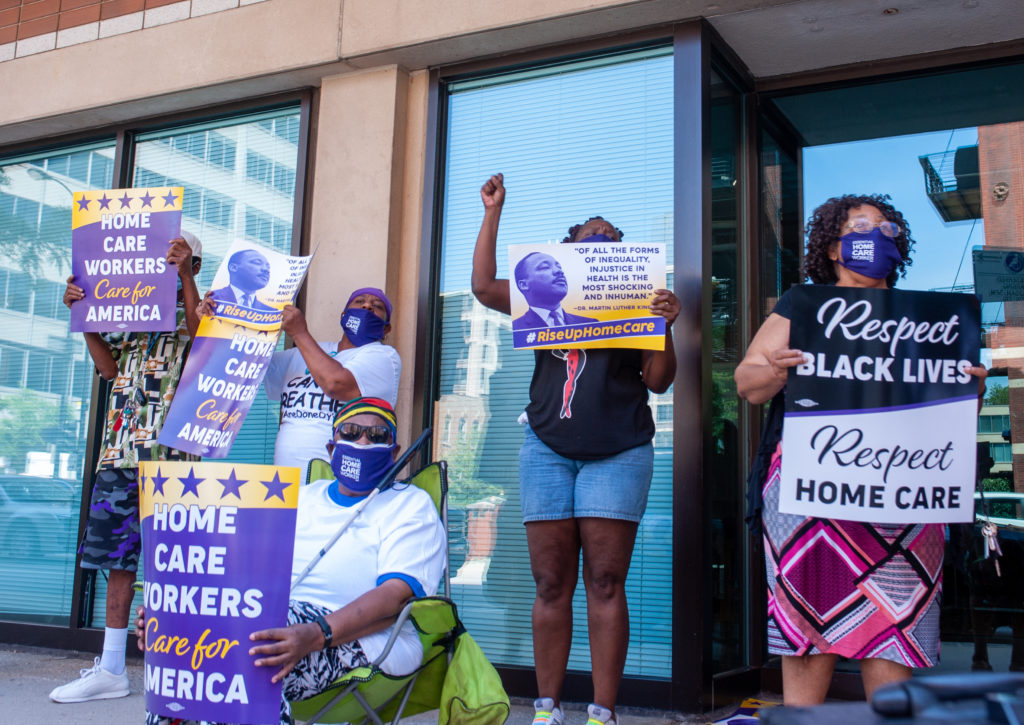 On July 1, as part of a national day of action for home care workers, Illinois Personal Assistants united in Chicago, Rockford, Peoria, and Alton for car caravans, press conferences, and rallies to highlight the important role that home care workers have played during this healthcare crisis and call for pandemic pay.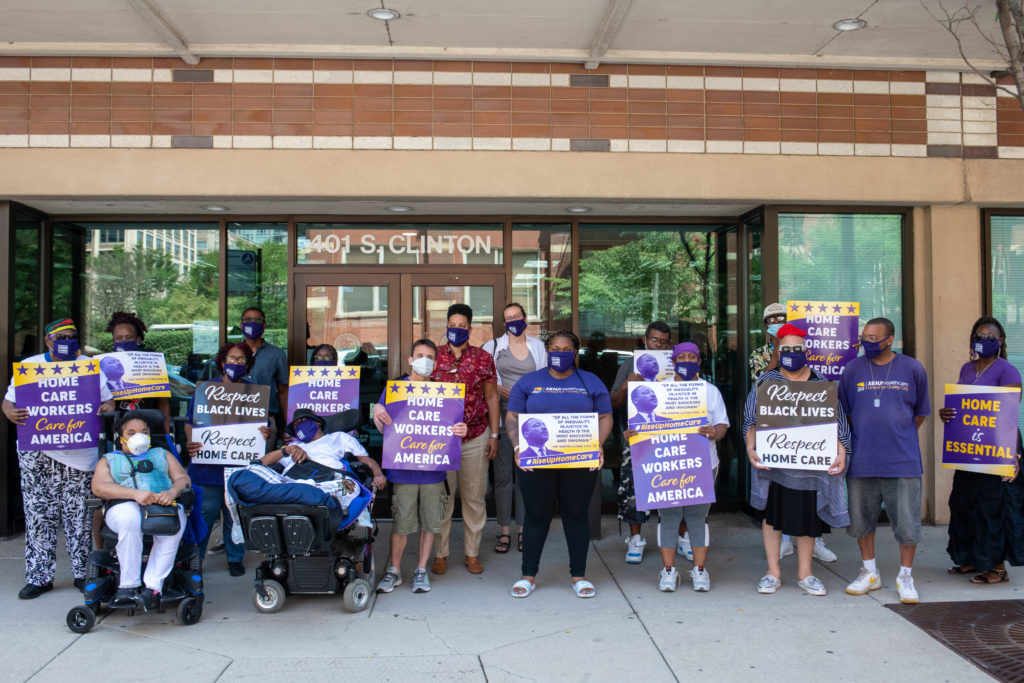 PAs and people with disabilities, joined by state lawmakers in some cities, also talked about the need for a stronger long term care system that expands community based services like home care and affordable housing so more Illinoisans in need of care can get it at home.
"I definitely never imagined that I would be asked to serve on the frontlines during a global pandemic and receive no financial compensation to acknowledge the risk I am taking," said Personal Assistant from the South Side of Chicago Adarra Benjamin. "Every day I'm scared to death that during the several hours I spend on public transportation getting to and from my consumers' homes and back and forth to grocery stores I'm going to be exposed to the virus. That's why I'm standing up today with fellow Personal Assistants to say that we need and we deserve pandemic pay."
87 percent of home care workers are women and more than half are women of color. The workforce has been overlooked throughout history, often excluded from federal laws and protections that other workers enjoy. This failure to value home care work and the workforce has its roots in sexism and in the same systemic racism that we've seen spark demonstrations over the last month worldwide.
"I sure wish people in power were looking out for home care workers through this crisis the way I look out for my consumer. We deserve the same protections that other healthcare workers need, but for some reason home care workers seem to always be left out," said Paralee Stewart, a PA and an SEIU HCIIMK Executive member in Alton. "We cannot be left out now too."
"I've shelled out $1800 on PPE the last three months while only making $14 per hour. We got a raise today to $14.50, but that raise shouldn't just go toward the equipment we need to stay healthy and alive. That's supposed to be a raise to improve our quality of life. That's why we need pandemic pay," said Rockford Personal Assistant John Colley.
The COVID-19 crisis has also revealed the failures in our long term care system as nursing homes have become virus hotspots across the country and front page horror stories. Now, more than ever, it is clear the vital role that home and community based care has in our healthcare system.
"The need to invest in and expand home care is more obvious now than ever before. We've seen the way this virus has ravaged nursing homes and left so many dead in its path. Reading about all of the nursing home resident deaths, I just stop and wonder how many could have been saved if only they had a home care worker instead," said Peoria Personal Assistant Janine Gaten. "We don't have to keep making the same mistakes. Let's expand community based services and invest in home care workers to provide them."
This virus is far from over as health experts tell us to prepare for a second wave, and as we see surges of cases in other states. The way forward includes a stronger long-term care system with much-needed investment in workers and expanded services, and changes at every level to take on the entrenched racism that permeates our society. Personal Assistants are ready to keep up the fight until we win what workers, seniors, and people with disabilities need!