Leader Profile: Nursing Home CNA, Chris Brown, Speaks to Congressional "Task Force on Aging and Families" to Demand More PPE, Testing, Safe Staffing and Higher Wages for All Workers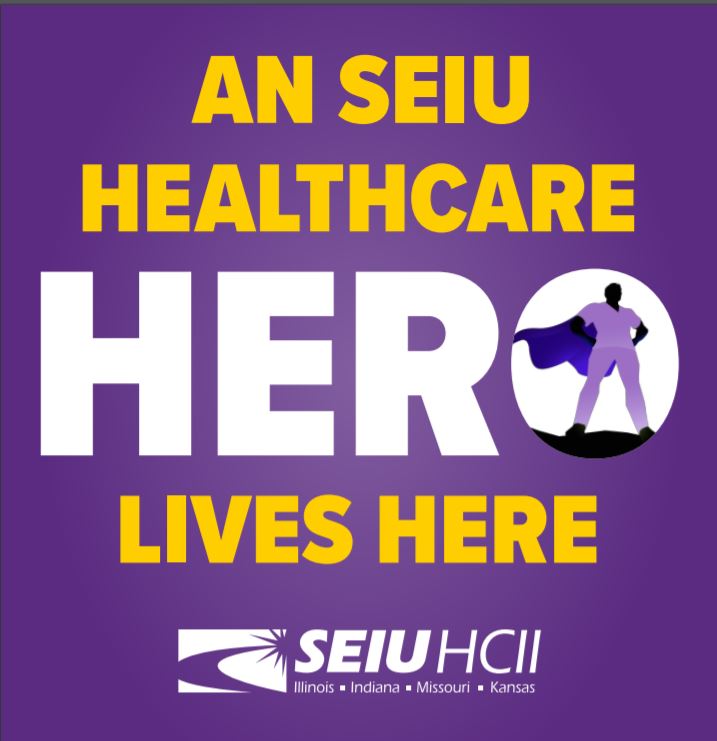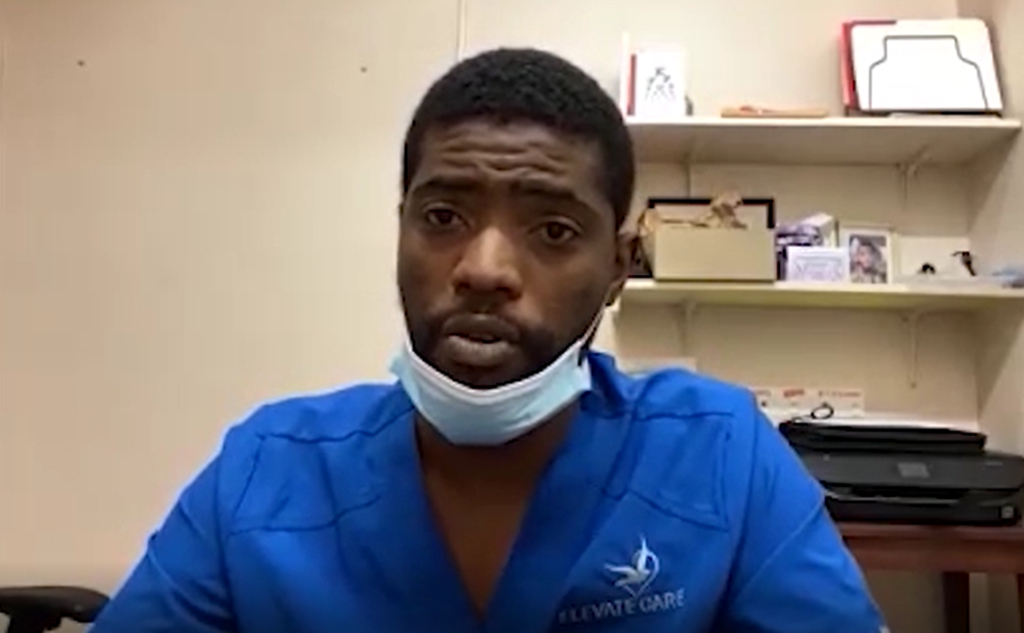 (June 22, 2020) — Illinois Congresswoman Jan Schakowsky (9th district), a co-founder and co-chair of the House Democratic Caucus Task Force on Aging and Families (TFAF), held a virtual roundtable discussion to continue to raise the alarm on the horrific impact of the COVID-19 pandemic on patients and families in our nation's nursing homes. Our remarkable leader, Chris Brown, testified at the rountable event — we've posted his statement below.
On June 11th, Chris Brown testified to the House Oversight Committee, "The Devastating Impact of the Coronavirus Crisis on Nursing Homes." (Click here for the video to the full hearinghttps://www.youtube.com/watch?v=nrLgj3PWqro).
---
July 22, 2020P Statement by Chris Brown, Certified Nursing Assistant at Elevate Care Chicago North nursing home, and SEIU Healthcare Illinois member
Good afternoon to the members of this task force. I appreciate this opportunity to share my experiences as a healthcare worker on the frontlines.
My name is Chris Brown. I am a certified nursing assistant at Elevate Care Chicago North nursing home in Chicago, Illinois and a proud member of SEIU Healthcare Illinois Indiana Missouri Kansas.  I've worked in the healthcare industry for almost ten years, but my experience as a caregiver started earlier.
The first person I cared for was my grandfather with cancer. Taking care of him was how I first learned how much goes into providing quality care for someone with a serious and debilitating illness. It was an entire family effort — when other family members were working, I was there making sure my grandfather had his medicine and all his physical needs met—and I worked to meet his emotional needs as well.
Providing care goes beyond hands-on care—you provide care with your heart and the person you're caring for can tell. That was true with my grandfather and it's true for the nursing home residents I care for today.
I chose this work because I care—and in general, I find it very rewarding. But to be truthful, I have to say that as a nursing home worker, I face a lot of challenges on the job—and many of these challenges existed before COVID-19.
These challenges meant that residents and the workers who care for them went into a pandemic without everything we needed—which made the impact of the pandemic much worse.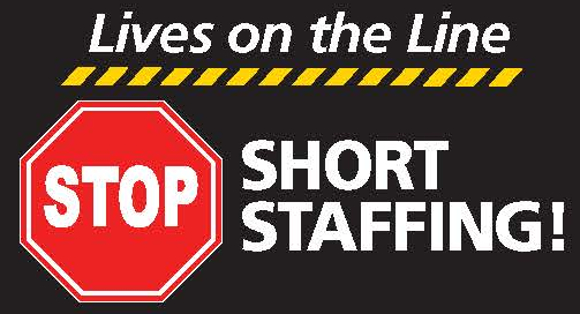 One of those challenges is short-staffing. I work on a floor where most residents are bed-bound and can't speak or move freely. It takes a lot of physical labor to move these residents to make sure they don't get bedsores, and to take care of all of their basic needs each and every day.
We were already having to rush to get to all our residents all the care they needed during a given shift before COVID-19 struck.
The pandemic has meant more work—we have added in protocols for keeping residents and workers safe, but we haven't gotten more staffing. Our facility created a special floor for residents with COVID-19 but we don't have the extra staffing we need to meet all the new work demands that come with this crisis.
So as workers, we're doing more and more during a time of great stress and with our lives quite literally on the line. We're each exposed to more residents, which means their risk and our risk for COVID-19 is increasing.
We don't know if new residents are tested when they arrive. If residents are only tested if they show symptoms, by then it may be too late.
Certified nursing assistants in nursing homes don't make a lot of money—in fact, we're usually paid poverty wages.
That was true before COVID-19, and it caused a lot of daily stresses for us—with most nursing home workers having to juggle bills in the best of economic times.
Now we have additional stresses. If I become sick, how can I take care of somebody else? Who will take care of me?
If I end up working sick, the virus could spread like wildfire. If I don't come in, I risk not being able to pay my bills. I have to choose between keeping the lights on or protecting my health.

Nursing home workers like me have put in a lose-lose compromised position – and it's something we must change urgently.
Being given low-grade PPE compounds these risks. I have more direct contact with residents than medical staff at the nursing home where I work, and I'm given a single-use mask but I have it use it over and over and over again for days.
What is worse is that at the start of this crisis, we couldn't count on nursing home owners to give us the information we needed to keep ourselves, our families and our residents safe.
My facility had its first confirmed COVID-19 case four weeks before I found out about it — I never knew whether I came in contact with that patient. I was scared. I eventually had to move out of my house because I was afraid of getting my family sick. I haven't seen them since.
It's difficult not to be able to see your family. I have 13 brothers and sisters and we all work to take care of our grandmother who has dementia. Every day my grandmother is losing a little bit of herself, and it's these last precious moments that I'm going to miss because of COVID-19.
But the time I'm not spending with my grandmother, I'm developing relationships with people in the facility. Unlike my grandmother, many of the residents don't have a family.
Sometimes we end up becoming the only family they know. So I spend my time telling a good joke, putting a smile on residents' faces and keeping them company.
That's why we need to invest in nursing home workers and residents and address short staffing. It's both heavy emotional and physical labor, but it'd be easier to find people to do this work if they are paid what they're worth.
If we value this work, our residents can live with dignity and comfort.
Together with my union family, we have been able to make some progress. Nursing home workers from across facilities lobbied in Springfield, Illinois, and shared our stories of being understaffed and working without benefits.
Just recently, we were able to win pay increases for nursing home workers in Chicago after over 6,000 workers in 64 nursing homes threatened to go on strike.
We won a historic contract that included a $2/hr increase for hazard pay, and an additional 5 paid sick days, but it is still not enough. All the issues I mentioned are still here.
These issues aren't unique to my facility. Nursing home workers across the country say their residents are not adequately protected from COVID-19.[1][1] They're also calling for paid sick days, double-time hazard pay, and free testing for COVID-19.[2]
With the pandemic disproportionately affecting communities of color[3][3] and acknowledging the majority of nursing home workers employed in nursing homes are Black and/or people of color,[4] nursing home workers are getting hit hard.
I continue to hope and pray for this to change for the better. Our families depend on it.
Thank you.
---
[5][1] SEIU COVID-19 survey of nursing home workers, May-June, 2020
[6][2] SEIU COVID-19 survey of nursing home workers, May-June, 2020
[7][3] Godoy, Maria. "What Do Coronavirus Racial Disparities Look Like State By State?" May 30, 2020. https://www.npr.org/sections/health-shots/2020/05/30/865413079/what-do-coronavirus-racial-disparities-look-like-state-by-state
[8][4] PHI. U.S. "Nursing Assistants Employed in Nursing Homes: Key Facts." 2019. https://phinational.org/wp-content/uploads/2019/08/US-Nursing-Assistants-2019-PHI.pdf
---