600 Energized SEIU Members from across Illinois Rally in Chicago, March to the Polls with JB Pritzker, Juliana Stratton, Kwame Raoul, Dick Durbin and Michael Frerichs as Early Voting Kicks into High Gear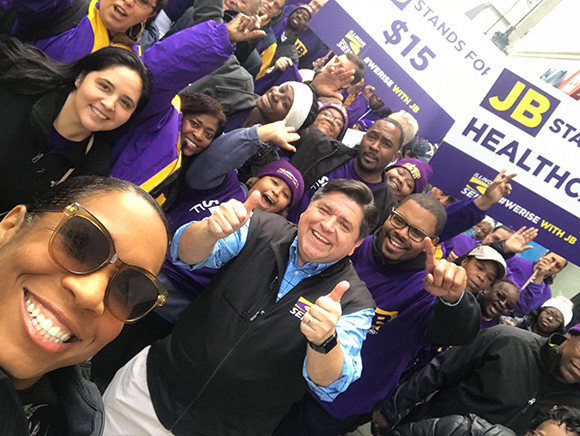 Illinois working families know they can count on Pritzker, Stratton and Raoul to Lead on Union Expansion and a $15 Statewide Minimum Wage
CHICAGO – With the Dunbar High School marching band and banda musicians in tow, more than 600 fired-up SEIU members and non-union working families from across Illinois gathered in Chicago on Saturday morning for a high-energy early voting rally and march to the polls with JB Pritzker, Juliana Stratton and Kwame Raoul—the respective Democratic candidates for Illinois governor, lieutenant governor and attorney general—along with U.S. Sen. Dick Durbin and Illinois State Treasurer Michael Frerichs.
Several Dunbar HS students voted for the first time ever. Pritzker, Stratton and Raoul lead the march to the polls.
Attendees included janitors, security officers and higher education professors and adjuncts, along with homecare, hospital and airport workers from Chicago, East St. Louis, Mt. Vernon, Peoria, Rockford and Springfield. March participants were joined by their children at the family-friendly event, which spanned Illinois' English, Spanish and Polish-speaking communities and was complete with Vote for JB lollipops, lively music and fun activities.
Click to see photos from this event.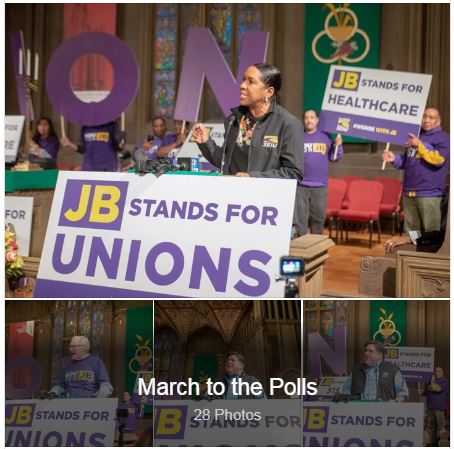 Whether white, Black or brown, Illinois working families care about the same issues: higher wages, better benefits, safe communities, excellent schools and meaningful progress in the fights for economic, racial, immigrant and environmental justice.
SEIU members are working to elect true progressive leaders like JB Pritzker, Juliana Stratton and Kwame Raoul, who will support better futures for all Illinois working families by leading on union expansion, a $15 statewide minimum wage and higher overall wages for all working people.
###
Representing more than 150,000 workers, the SEIU Illinois Council rallies behind candidates who have demonstrated a strong record on issues important to all working families. The SEIU Illinois Council represents working people, including homecare and child care providers, security officers, janitors, as well as public employees, medical professionals, first responders and social service workers. SEIU members are winning better wages, healthcare and more secure jobs, while ensuring that working families, not just corporations and CEOs, benefit from today's economy.
Learn more about when and where to vote: https://seiuhcilin.org/vote/
Learn more about why JB Pritzker is the best choice for Governor: https://seiuhcilin.org/jb
Learn more about why Kwame Raoul is the best choice for Attorney General: https://seiuhcilin.org/kwame